This blog post is in collaboration with iHerb, as always all thoughts and opinions opinions are my own.
Happy New Years Eve! 
We are just one sleep away from the start of a fresh, shiny, spankin' new year… Helloooo 2018! I've said this before and I'll say it again, I love the start of the new year brimming with excitement and possibilities, as well as the refreshing ability to close the page on some maybe not-so-great events of the year that have come and gone.
2017 happened to be one of my best years to date as we welcomed the arrival of our sweet baby girl Hemsley (wow!), but it hasn't been without it's challenges. I always make it my goal to learn from my mistakes and challenges, and with that learning I've compiled a helpful list of intentions for 2018 that I hope will inspire you so that you and I together, can improve our lives (and health) in 2018!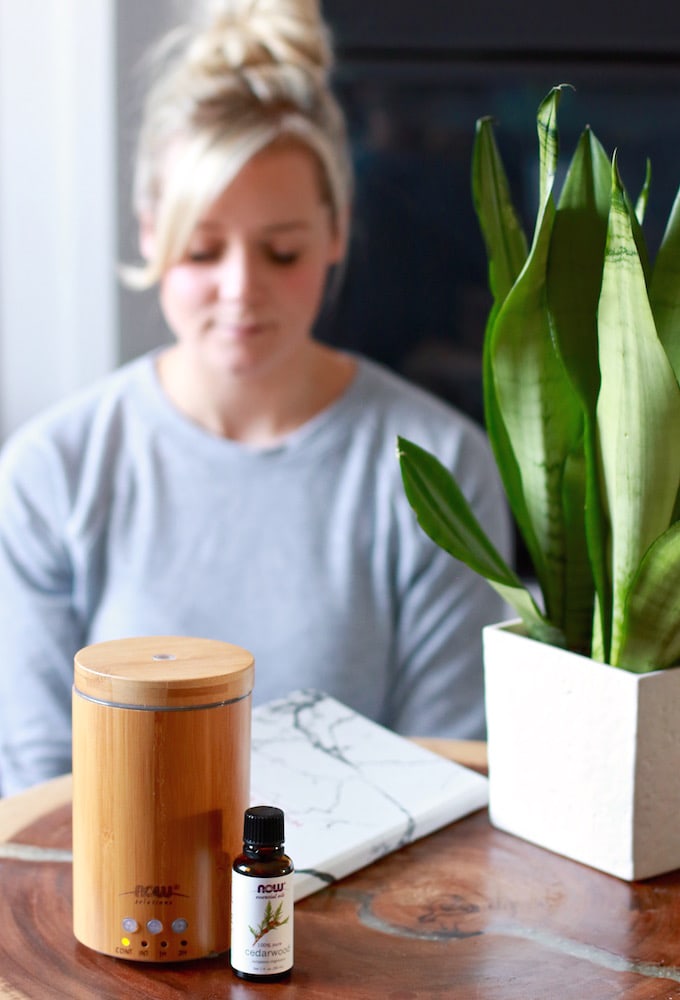 1. Slow Down & Stress Less
I think this is an ongoing goal/resolution/intention for me every year…since I've been an adult anyway. We live in such a fast-paced culture and I have the tendency to expect perfection from myself (working on this big time, especially as a new mama!) so it wasn't surprising that I found myself in the whirlwind of over-commitment and stress more than a few times in 2017.Moving forward I plan to slow my pace with life, work, and even motherhood, which in-turn will equate to less stress.
Stress has such an immense impact on our health (I go into this in great detail in my 7-Step Online Wellness Program) as it is related to 99% (!!) of illnesses. For me, stress means heightened anxiety, which can often be very intense. For my own mental and physical health, and the good of my family, it's so important that I keep my stress to a manageable level.
In 2018 I plan to take at least 10-minutes (I'm being realistic…) every morning to sit in quietness and prayer with my journal, to connect with myself and God and cultivate more calm into my life. It also won't hurt to turn on my Now Foods Real Bamboo Ultrasonic Oil Diffuser to release blends of Cedarwood essential oil and Lavender essential oil into the air (both help with relaxation and stress reduction). I also plan to take on less commitments and try my best to live at a slower pace creating time to breathe deeply, love genuinely, and enjoy the little things.
What does slowing down and stressing less look like for you?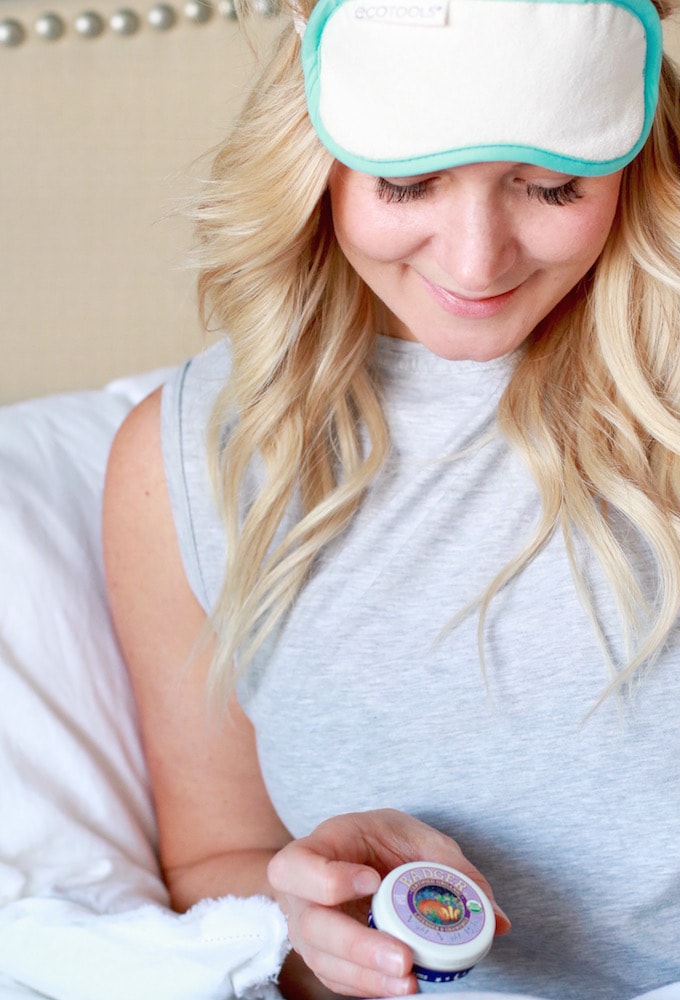 2. Sleep More (& Better!)
This has by far been my biggest challenge of 2017. Obviously not a huge surprise considering we had a baby! Oh sleep, you beautiful and elusive thing you.
Here's the thing, while I understand I undoubtedly experience a lack of sleep due to the needs of my little one, I have also made the conscious decision to stay up later, avoid naps, and stay busy versus take advantage of the sleep I can get on many occasions. Napping has been a challenge for me as I have always felt there's "something better to do", but I've realized, there's NOTHING better than sleep when you are newborn-crying-in-the-night-breastfeeding-every-two-hours sleep deprived.
N O T H I N G. 
That being said, I'm making it a goal to practice discipline and go to bed a couple hours after Hemsley does in the evening and optimize my sleep with no-screen time 30-minutes before bed, my EcoTools Relaxing Sleep Mask, a quiet bedroom, a little dab of Badger Company Night-Night Balm on my wrists (and on Hemsley's feet…it works wonders for her too!), and I also plan to set aside the to-do list much more often and nap when I need it.
Lack of sleep hinders immune function, can lead to weight gain and cravings, creates low mood and anxiety, and reduces the ability to manage stress among many other negative health effects. In other words, enough good quality sleep is essential, and I plan to become a sleep ninja in 2018!
How can you sleep longer and better in the new year?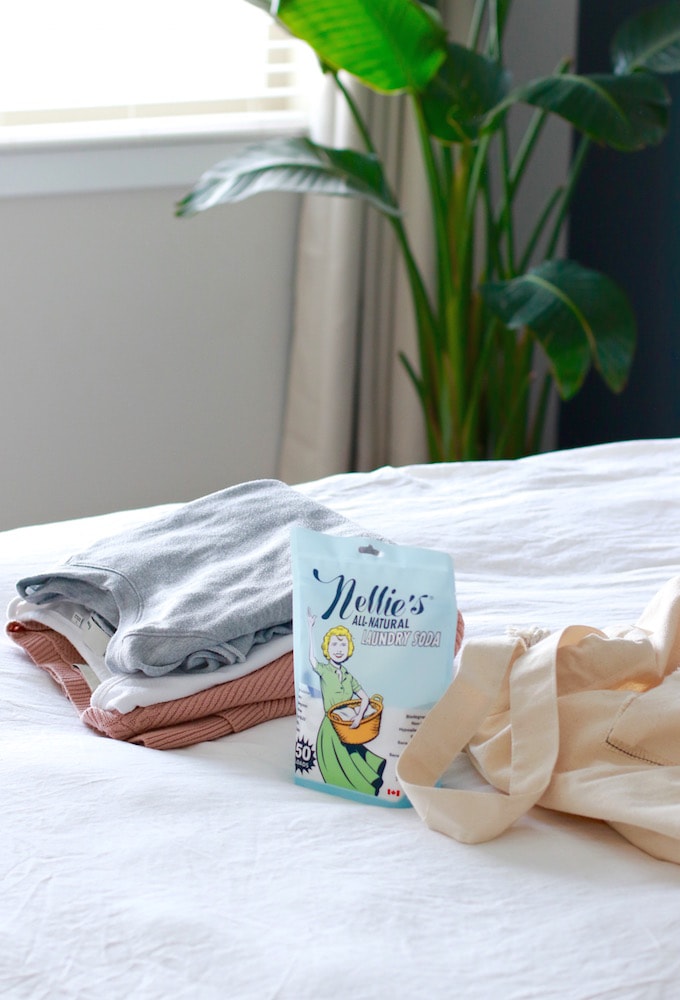 3. Practice Minimalism
I've talked about this topic a few times on Instagram and specifically my Instagram stories as minimalism has been a newer concept for me in 2017. I watched The Minimalists documentary, read a couple books on minimalism, and through that realized how much excess I have in my life that causes me stress and eats up my time. One main aspect of this being clothing.
I paired down my wardrobe hugely this past year giving away garbage bags full of clothing to shelters in the city. I was amazed at how much clothing I had accumulated and how little of it I actually wore or even liked.  I've been slowly learning to become more stringent when shopping for clothing, choosing items that are higher quality, nice fitting, neutral coloured, and mix-and-matchable. I make sure to take very good care of the items that are now in my closet, washing with chemical-free detergents like Nellie's All-Natural Laundry Soda and the benefits have been unbelievable. I've saved money by buying much less (even considering the items I buy are more expensive), saved time by having less to choose from (now enjoying ALL of my clothing options making it fun to get dressed), and best of all, I've been able to help others in need.
Win, win, win. 
Going into 2018 I plan to continue the trend of adopting a more minimalist lifestyle as it's been an eye-opener to say the least!
Do you think your life could use a little more minimalism in 2018?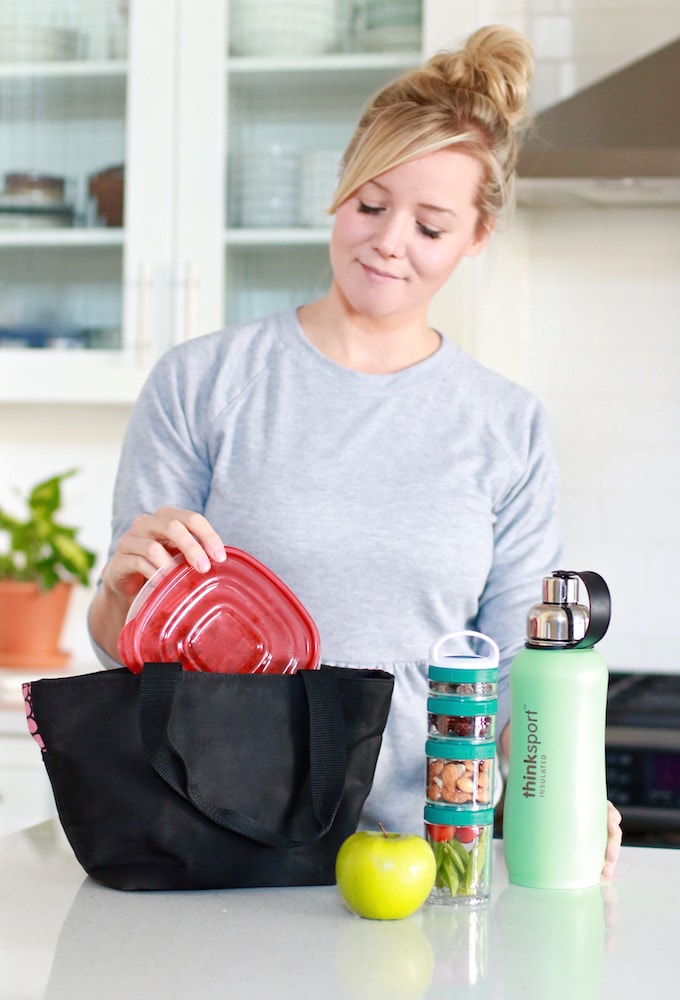 4. Hydrate Often & Snack Well 
You were waiting for this one weren't you? I mean, this is the backbone of my profession so it would be hard not to include it as a goal for 2018!
Having a baby has thrown me for a bit of a loop in the hydrating and healthy snacking categories. While I have tried my best, I've definitely had days where I drank merely sips of water and grabbed processed snack options out of sheer forgetfulness, convenience, and scroll back up to Number 1 on this list… yeah, that.
As a new mama water is so important for my energy levels. In fact, dehydration is a huge cause of daytime fatigue (and surprisingly, heartburn)! My goal for 2018 will be to carry my Thinksport Insulated Water Bottle with me everywhere I go and drink at least 2 litres of H20 every day, as well as pre-pack (planning and preparing ahead is KEY for success) healthy snacks that I can enjoy at home or take with me on-the-go in my GoStak Portable Stackable Containers.
When it comes to healthy snacking, fruit, veggies, unprocessed proteins like hard-boiled eggs or baked chicken breast, and healthy fats including nuts, seeds, avocado, or nut butter are all great choices.
Do you think this is an area you can improve on in the new year?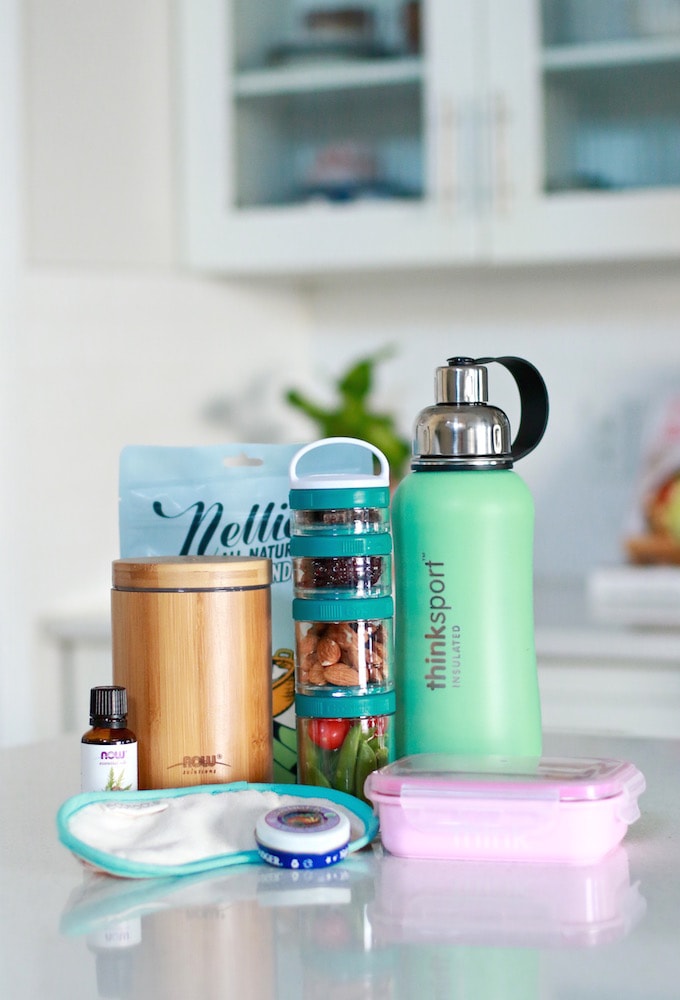 5. Be A Conscious Consumer
This final point ties into Number 3 on my list. Not only do I hope to pair down on the amount of things I purchase in 2018, I also want to really focus on the quality of the products I buy to not only lessen the toxic-load in our home but also the toxic-load on our bodies. I've always aimed to prioritize organic foods over non-organic but this hasn't always translated into the other types of products I use at home including skin care, storage, and cleaning supplies.
Since having Hemsley I've actively taken a closer look at the products I use to feed her, bathe her, launder her clothes, and clean her cute little tooshie! While I'm not totally there yet, my goal is to continue to "healthify our home and our spending" as we move into 2018.
I think Hemsley is totally up for this, as you can see below, she very much enjoys her Thinkbaby Bento Box that is free of BPA, lead, nitrosamines, PVC phthalates, and toxic chemicals.
Would you consider yourself a "conscious consumer" or do you hope to improve this aspect of your life in 2018 as well?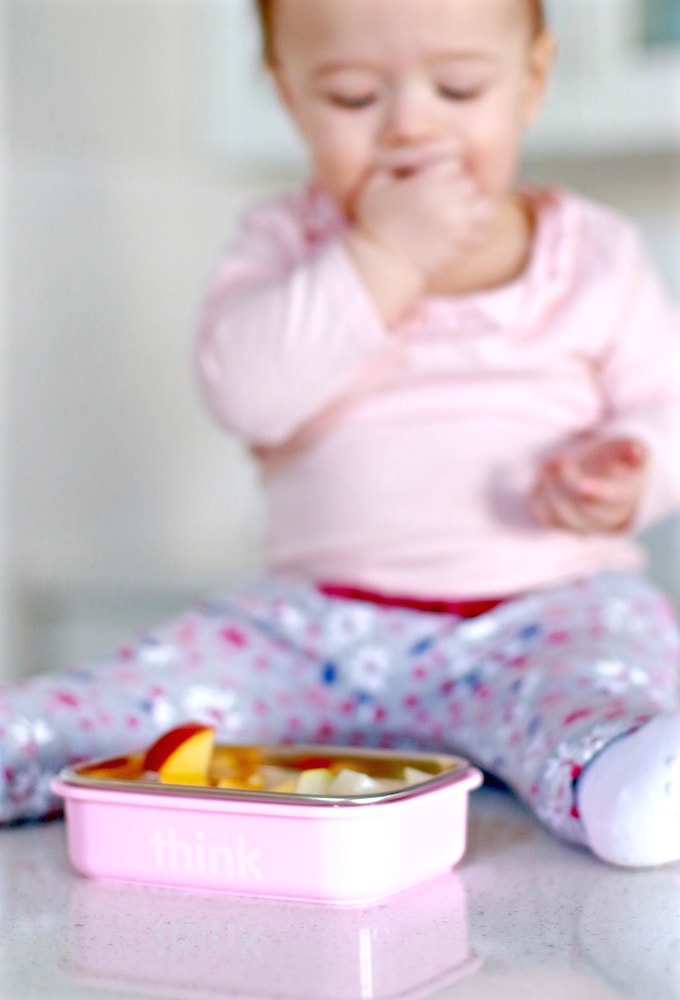 I love accountability so I hope that you'll help me with my goals and keep a close eye on the products I'm using in the new year through the blog and social media.
I'd also love to hear if any of these goals strike a chord for you! Lucky for us, iHerb carries all of the products I mentioned above along with 35,000 other products that can be shipped to over 160 countries! I always find ordering from iHerb to be a seamless process and I love that I can purchase products that I am unable to find locally or through Canadian retailers.
If you haven't tried iHerb yet I'm excited to share that new customers can click here to receive a discount on their first iHerb order!
Here's to an amazing, healthier, happier 2018!
Christal // NITK