Aaaahh Italy. You amazing, beautiful, exciting country. How I love thee!
Italy has been such a great experience, and we really only got to see a fraction of it! Justin and I decided to explore two areas of Italy for our week here; Tuscany and the Cinque Terre!
We began our trip in Florence. A breathtaking, history-filled city, that was busy, cramped, hot and wonderful all at the same time! We saw the Duomo, Michelangelo's David, perused through the San Lorenzo market, and walked, walked, and walked some more!
We found a couple great restaurants in Florence and began our journey into Italian cuisine!
I don't eat pasta often at home, almost never actually (usually I end up with a stomach ache!) , but I did have a few pasta dishes on this italy trip that were absolutely delicious, and I didn't feel bad after! I attribute that to the pasta being fresh, handmade, and minimally processed!
Here are some of the DELICIOUS dishes I had in Florence!
At one restaurant we went to, they sat us right next to the kitchen. I was mesmerized all night watching the chefs create amazing food. It was a lively and fun experience! They are definitely proud of their food, and "BISTECCA"! 🙂
Bistecca means "beef steak" and is a common dish seen on Italian restaurant menus. I saw many people order these huge beef steaks which are often shared, but decided to leave the eating up to them as my digestive system wouldn't have been too happy with me! Lol!
From Florence, we took our trip into the Chianti region! We decided to try a different kind of accommodation rather than hotels known as "Agritourism"!
Agritourism involves any agriculturally-based operation that accepts visitors to its farm or ranch! This is a great way to experience the culture, see how things are done, and enjoy amazing, fresh, organically grown food!
Our first stop was at Fattoria Poggerino, a working vineyard/farm that produces wine and oil. The setting was absolutely breathtaking with the winery nestled right in the Tuscan hills!
Fattoria Poggerino prides itself on responsible ecotourism as they cultivate  the grapes, olives and vegetables without the use of pesticides, herbicides or chemical fertilizers. Vegetables from their vegetable garden are used to prepare dinner for the guests and any remains are used to make compost to be made into organic fertilizer. The free-range hens provide eggs for the delicious breakfast and the flour is organically-grown and stone ground.
One night during our stay, they hosted a guest dinner and we were served amazing food made at the winery including crostini with olive tapenade, homemade pasta, and roasted chicken in a fresh lemon sauce!
At the town nearby, Radda in Chianta, Justin and I went to the grocery store and picked up some locally produced honey, fresh fruits, and …gelato (just a little one)…
Don't judge! I was in Italy, how could I have not had gelato?! Every bite was worth it 🙂
While staying at Poggerino we decided to go for a drive to a nearby town called Panzano. Here is where Dario Cecchini and his butcher shop can be found!
If you aren't familiar with Dario Cecchini, he is a world famous butcher, who has been featured on the Food Network, in many cookbooks, and on several TV shows!
His passion for his work is contagious, and although he is famous, he can still be found in his shop each day, serving customers with a smile on his face! (Oh, and the ladies love him, haha, I watched many a middle aged women swoon over him for the 20 minutes we were in his shop!)
Driving around Tuscany took my breath away. The views almost didn't seem real they were so perfect! This lookout was in Radda, I think I stood like this for a good half an hour, in complete La-La Land!
I had to stop and take some pictures of the vines too, of course!
Here is some delicious food I enjoyed while we stayed in the Chianti region!
Tuna Salad with Local Olives & Veggies
Salad with Caprino (Italian Goats Cheese) & Peppercorn
Yellow Pepper Tart with Pesto
 After our amazing stay at Poggerino we headed to our next Agritourism stay, but first, we made a stop in the medievil towns of San Gimignano and Volterre (the very first picture of this blog post was taken in Volterre)!
The second working farm we stayed at was Fattoria Poggio Alloro. I will let the pictures do the talking, this place was magical!
 Fattoria Poggio Alloro was an amazing experience as well. The accommodations were simple, but all we needed, and the scenery was unbelievable, the pictures don't do justice! From the back terrace we could see the towers of San Gimignano, and the rolling hills of the farm. The cows were mooing, the roosters were crowing, it was perfect! Here they produce their own meat, vegetables, honey, saffron, pasta, oil, wine… seriously, everything! And, the farm is 100% organic!
While we were there I discovered that the farm has a book! The book was written by one of the children (Sarah Fioroni) of the family who owns Fattoria Poggio Alloro. The book is about the day by day workings of the farm, Sarah's experience, history of the farm, and it is full of amazing recipes! I bought one of course 🙂
Now, for the even more exciting part! Sarah asked me to be part of her Blogging Book Tour when she found out I have a food blog!
I will be posting a recipe (from the book) and more information on the book and the farm at the end of October when the Blogging Tour begins! I am so excited!!!
Fattoria Poggio Alloro also had a communal guest dinner one evening and we joined in and enjoyed the fresh, local, organic dishes!
After saying our goodbye's the next day, we made our way to the Cinque Terre for the next portion of our trip, but not without a stop in Pisa to see the leaning tower!!
The Cinque Terre (or five lands) is a string of five towns along Italy's coast. We stayed in Monterosso Al Mare, one of the towns in the Cinque Terre. It was stunning!
Crystal clear blue waters, green lush mountains, brightly colored buildings, and DELICIOUS fresh local seafood! What's not to love?!
I got a little lazy with my picture taking here 🙁 so I don't have as many as I did for Tuscany, but here is a delicious salad we enjoyed for lunch one day.
The salad was made with local Monterosso anchovies and olives, topped with tuna and a bunch of fresh veggies! We had local Cinque Terre wine and olive oil, as well as tomato balsamic bruschetta! Yummm!
Between each town along the coast in the Cinque Terre is a hiking trail that is enjoyed by many year round. To take the hike from the 1st to the 5th town takes a full day, but is not overly strenuous and we planned to hike this.
Unfortunately, the hike was closed because of a recent rockslide so we decided to take the "red trail". A higher trail that goes to each town but is supposed to be "slightly challenging". I renamed this hike the "DEATH HIKE" when we had reached 1,000ft of elevation after climbing/hiking/crawling uphill for 3 hours!! Then there was the 2 hours of downhill slipping and sliding to follow.
My legs felt like jello when we were done, and now, a couple days later they feel like sandbags full of pain!
But! It was worth it for these amazing views!!
And we passed many olive groves on the hike! So pretty!
Then we rewarded ourselves with delicious locally caught mussels and anchovies. Yum, yum yum!
Well! That just about sums up my incredibly long Italy post, I hope you've stuck through to the end because now here is the delicious recipe I made to represent the Italy portion of our trip!
Mediterranean Baked Caprino & Tomatoes

I chose this recipe because it combines many of the delicious ingredients used in Italy including caprino, oregano, tomatoes, olives, and olive oil!
This recipe is very easy to make and a healthy and delicious snack, or lunch! The bake can be enjoyed with crackers, crostini, pita, or even veggies! I used Mary's Gone Crackers gluten free black pepper crackers, and they worked perfectly!

I hope you enjoyed the update and this recipe!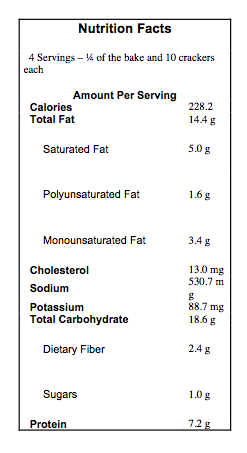 Mediterranean Baked Caprino & Tomatoes
Ingredients
1 cup cherry tomatoes, halved
⅓ cup chopped, pitted Kalmata olives
1 clove garlic, minced
¼ cup thinly sliced red onion
2 tablespoons finely-chopped fresh flat-leaf parsley, divided
1 teaspoon dried oregano
1 teaspoon olive oil
Freshly ground black pepper
4 oz goat's feta cheese, soft unripened
Crackers, flatbread, pita chips, or crostini, for dipping (I used Mary's Gone Crackers Original Gluten Free Crackers)
Instructions
In a bowl, mix the tomatoes, olives, onion, garlic, 1 tablespoon of the parsley, oregano, olive oil and a few grinds of pepper.
Heat oven to 400°F. Check to see that your dish is oven-proof.
Roll the goat cheese into a ball and sprinkle with a pinch of dried oregano. Place the goat cheese in the middle of your dish.
Pile the tomato mixture around the goat cheese. Bake for 10-15 minutes.
Serve with crackers, or other preferred side.
Enjoy!
Italy was amazing! I can't believe we are nearing the end of our trip!
We are off to London next, stay tuned for a heavenly scones recipe!
Yup.
SCONES.
Healthy, delicious, soft, crumbly, scones! 🙂
Christal
Nutritionist in the Kitch