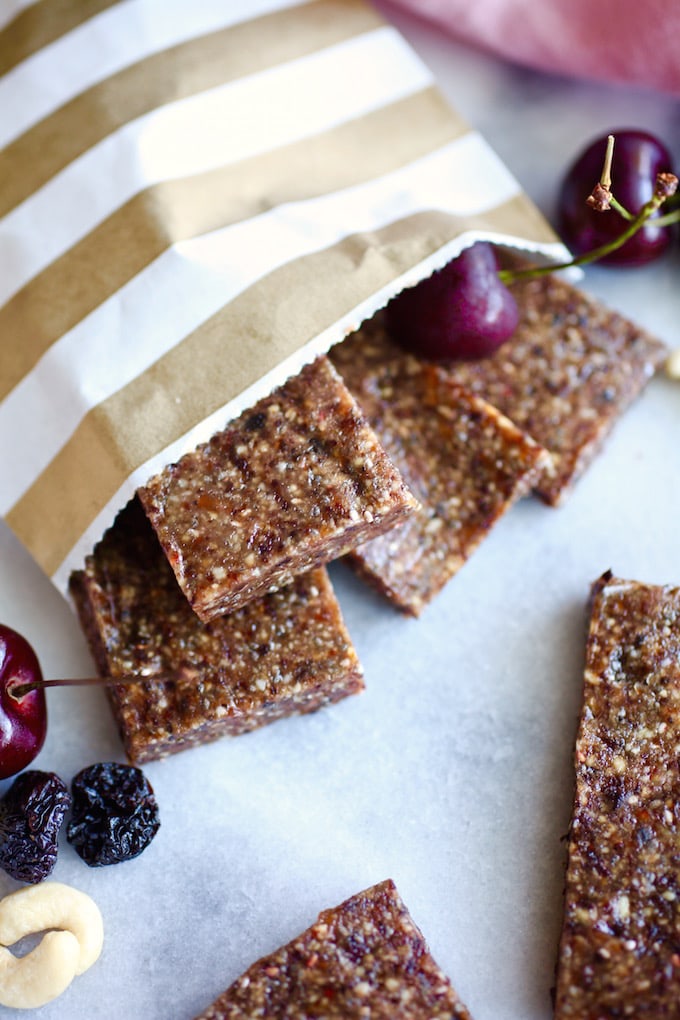 Is it seriously August 14th?  When I was growing up my Mom used to tell me: "You just wait till you're older, time flies the older you get."
She was right. I feel like I barely blinked since Summer was starting. While it's always a little sad to see the Summer season coming to it's end, there's something that makes me pretty excited about the coming Fall (and feel a little extra pressure to get crackin'!)…
The launch of my exclusive online Nutritionist in the Kitch 7-Step WELLNESS PROGRAM!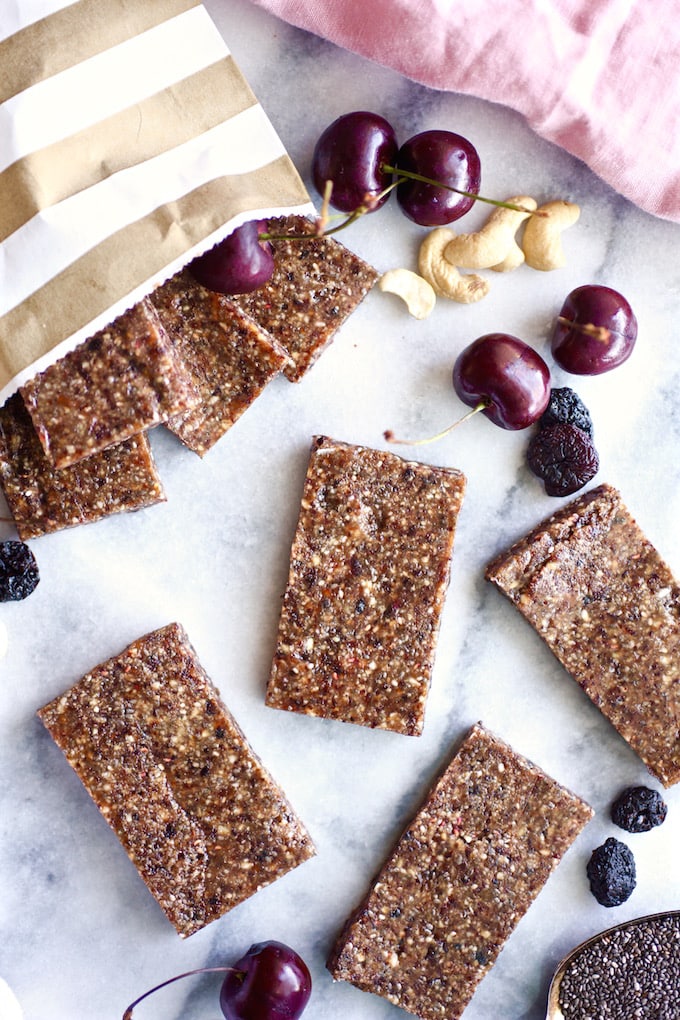 Yep! I've already begun building this program that I've been dreaming up for ages, and with your help (from my recent reader survey!) I've been able to formulate it in an amazing way.
When I decided I was going to create a wellness program, I knew the first thing I had to do was find out what struggles you deal with when it comes to your health, what your biggest obstacles are, and where you really want to improve, as this was THE way for me to learn how I could help you best.
With the hundreds of responses I received and the amazing amount of information gathered, I settled on a 7-Step program rather than a "monthly" or "weekly" program because it gives you the freedom to complete it at YOUR OWN perfect PACE!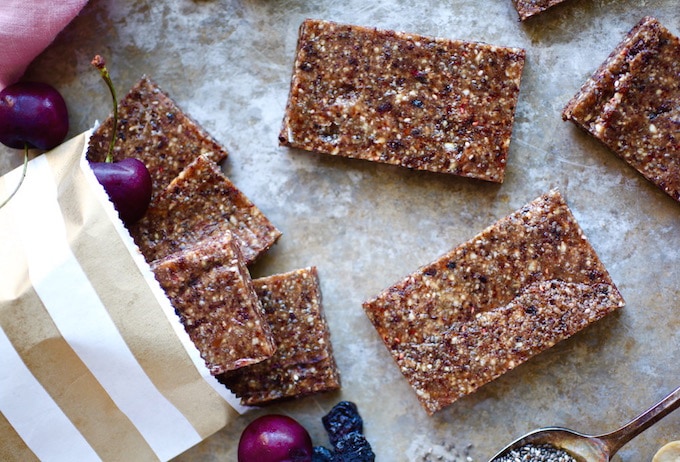 And that's what I'm really striving to do with this program… to make it as individual as possible by formulating it in a way that allows you to uncover and tackle your own personal obstacles, learn and grow at your own pace, and truly understand yourself better. My goal is to help you improve your overall wellness sustainably and for the long term (seriously, there will be no magic pills, quick fixes, or gimmicks in this program… nor the words DIET or "cheat meal") and finally find better health and confidence in your own skin.
So… to today's recipe! These Chia Cherry Energy Bars are just 1 of the 28 recipes (ALL with vegan substitutes!) that are EXCLUSIVE to the program. Actually, there's just 1 other recipe that I just HAD to include from my blog that you may have seen on NITK before… all other recipes won't be found on Nutritionist in the Kitch, but only in the program.
These 28 recipes, including these delicious Chia Cherry Energy Bars:
Contain less than 10 ingredients. Seriously, that's it, that's all. 
Take less than 30-minutes to make (most are less than 15 minutes).
Are Gluten & Diary Free (and each one has a vegan adaptation if it isn't already vegan).
Come with nutritional information for those who want to know calories and macros.
Are totally delicious, simple to make, budget friendly, and made with easy-to-find whole foods!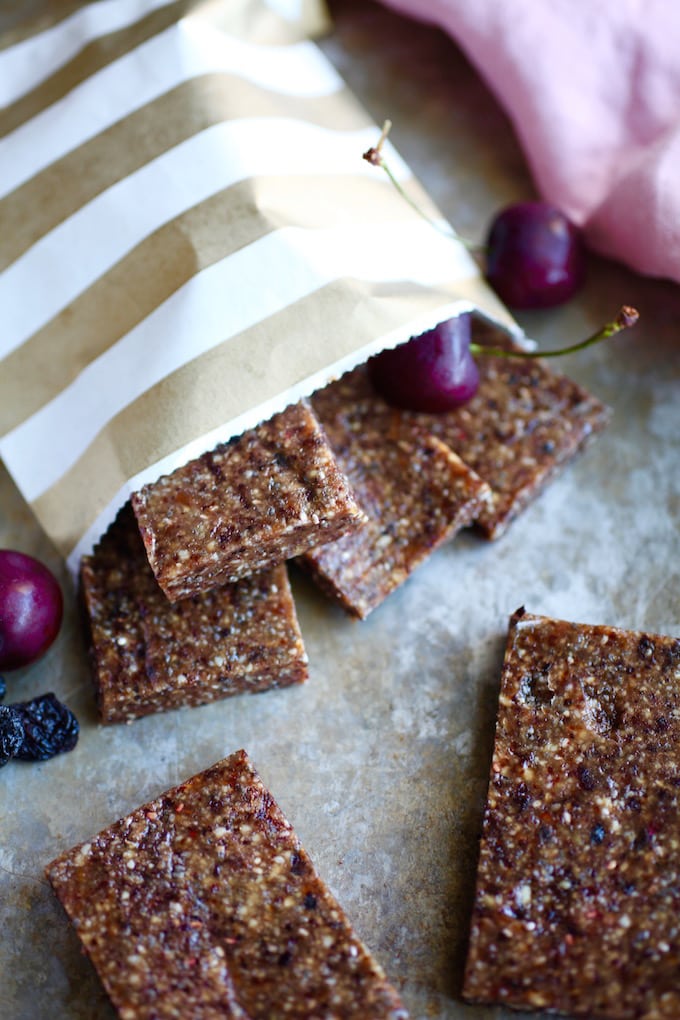 I can't wait to share more about the program as I continue to develop it, but in the meantime, enjoy this delicious energy bars loaded with natural protein, antioxidant-loaded cherries, fibre-rich chia seeds, omega-filled cashews, and naturally sweet energy-giving dates.
If you are interested in learning more about the NITK Online 7-Step Wellness Program (I've yet to give the program an official name) I would LOVE for you to enter your email below so I can add you to an exclusive email list which will inform you of program updates, early-bird pricing, flash sales, and official launch date!
Chia Cherry Energy Bars
Ingredients
1¼ cup raw cashews
½ cup dried unsweetened cherries
3 fresh, pitted cherries
½ cup pitted dates
¼ cup natural vegan (or grass-fed whey) vanilla protein powder OR collagen peptides
2 tablespoons chia seeds
1 tablespoon plain Greek yogurt OR plain coconut yogurt (for vegan/dairy free)
Instructions
Add cashews, dried and fresh cherries, pitted dates, protein powder, and chia seeds to a food processor.
Process on high for 30 seconds. Then stop, scrape the sides with a spatula, and process again for 30 seconds.
While processing, add the yogurt into the top opening of the food processor.
Stop processor once more and scrape sides with a spatula, then process again for 30 seconds to 1 minute until a sticky batter is achieved.
Line an 8x8 baking pan with parchment paper and transfer the bar batter from the food processor to the pan.
Using clean wet hands and the spatula (you may want to wet it slightly to prevent the batter from sticking to the spatula) press the batter evenly into the pan.
Place the pan in the freezer for at least 5 hours.
Once set, cut into 8 bars and wrap individually with saran wrap.
Notes
Store bars in the fridge for up to 1 week or freezer for up to 1 month. Consume bars shortly after removing from the fridge/freezer to maintain a firm consistency.
Nutritional Information
Serving size:
1 bar
Calories:
182
Fat:
8g
Carbohydrates:
21g
Fiber:
3g
Protein:
7g
Eeeek!!
I hope you are as excited about this upcoming program as I am. I can't wait to provide more updates as I continue to create this
(seriously life changing!!)
program.
Stay tuned…
Christal
Nutritionist in the Kitch