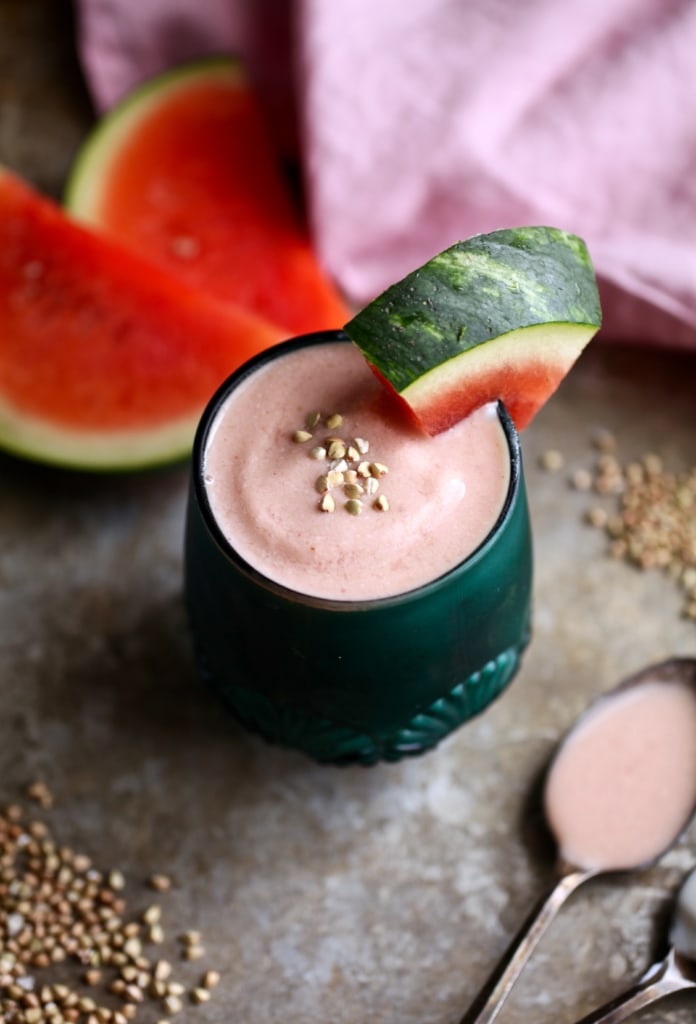 Just recently I noticed the fresh, organic mini watermelons had popped up on the SPUD grocery site again, so of course I put my order in. They are only ever available in the Summer and I was thrilled to see the watermelons as proof that yes, Summer is here to stay. 
(cue Hallelujah music)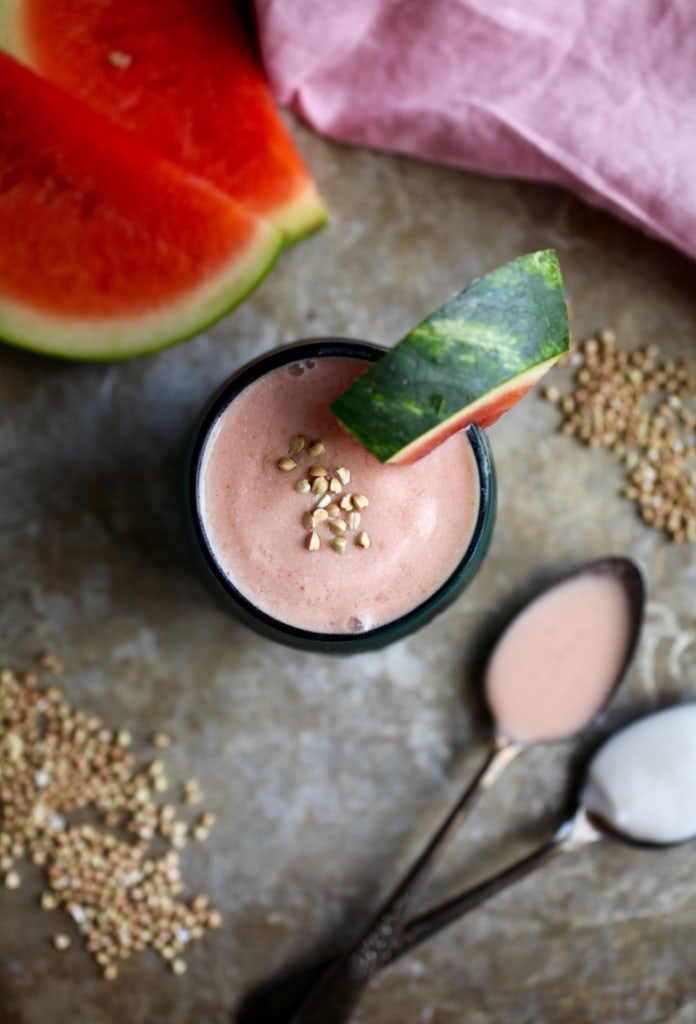 Because of our trip and the amazing hot weather we got in Greece, I feel like I've already had a couple months of Summer so I'm really already in the Summertime mode, but to know that it's here to stay where I live is always a good feeling each year.
I feel like our city comes ALIVE in the Summer.
The river valley is a spectacular lush playground of green and there are festivals on festivals on festivals. Everyone, and I mean everyone, is out each and every day to milk every little bit of Summer that we get here!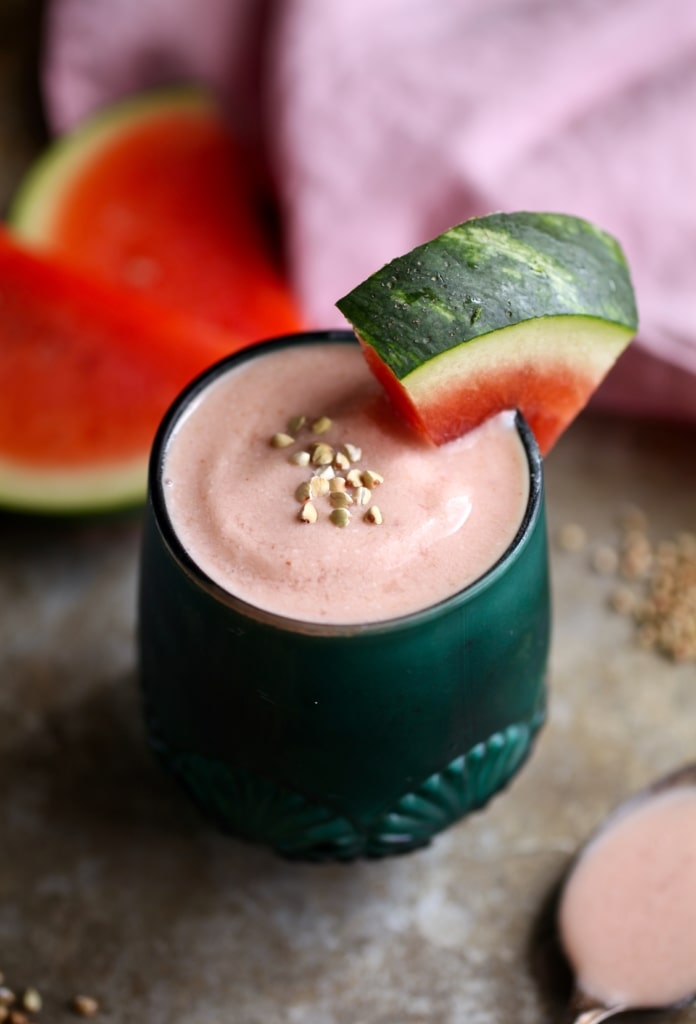 One of the most popular Summer recipes I have on the blog is this (dairy-free) Watermelon Ice Cream, so I know that I'm not the only watermelon super-fan out there.
I decided I'd put my most recent watermelon purchase to good use and make a delicious healthy Summer smoothie recipe! I always love to test out not-so-typical smoothie ingredients to see how they blend, and I wanted to make this smoothie a bit more filling!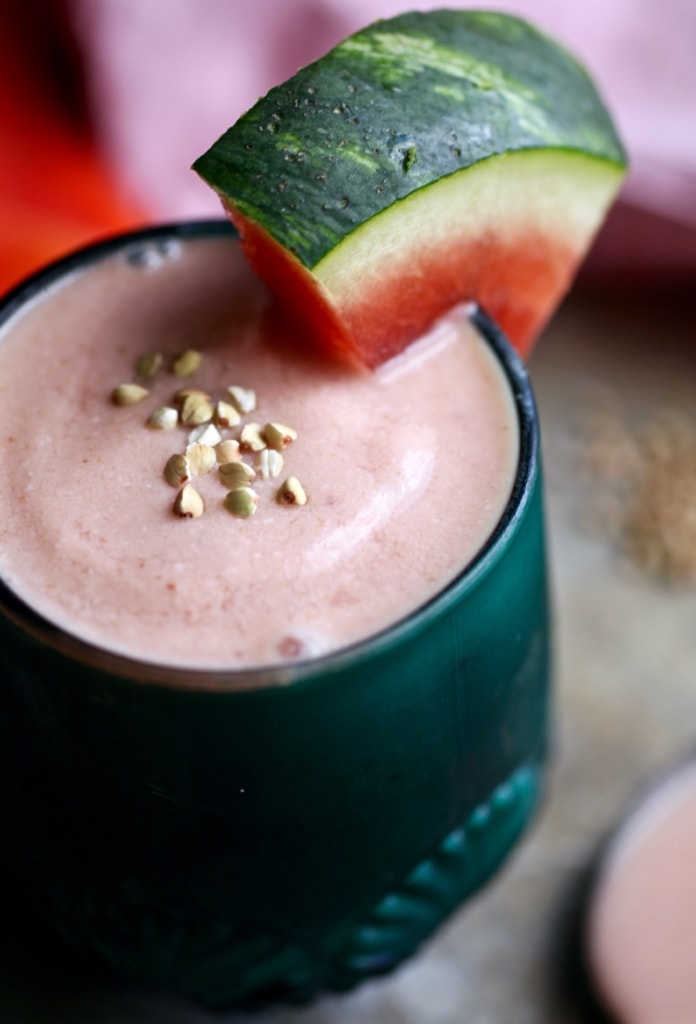 Watermelon itself isn't the most filling food considering it's, well, 90% water, so by combining it with fibre-rich buckwheat groats I knew the smoothie would provide a longer laster energy and fullness. Not to mention that buckwheat groats also contain a decent amount of protein.
Along with the watermelon and buckwheat groats (which I pre-soaked for better blending), I added banana for bulk, raspberries and a touch of honey for sweetness, then some coconut yogurt and coconut milk for a creamy, smooth consistency.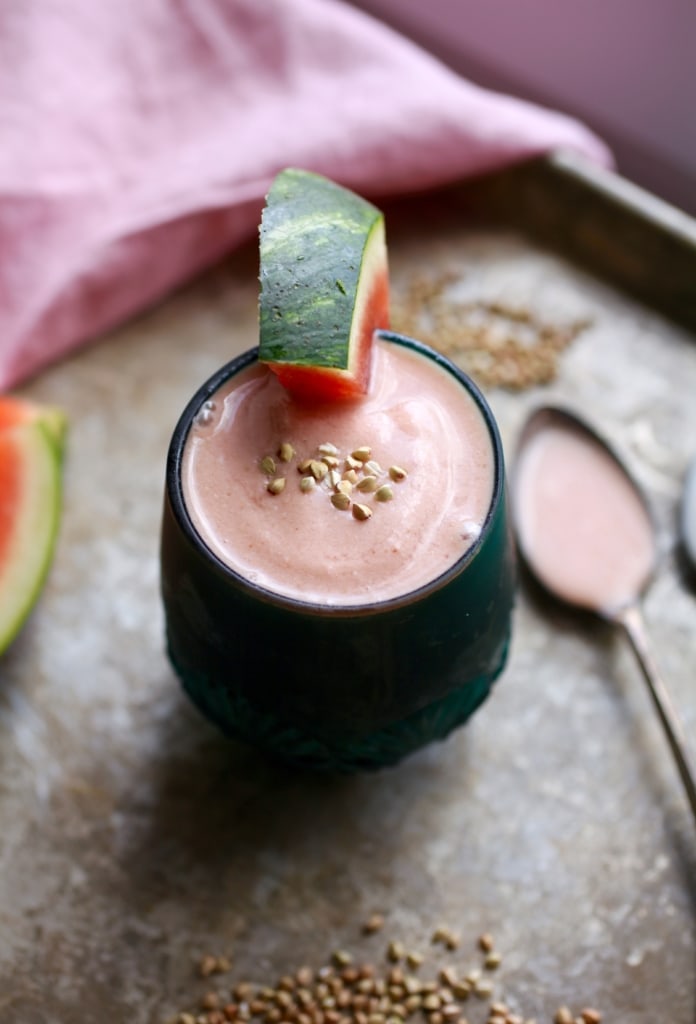 All the ingredients worked together wonderfully to create a unique and tasty Summer smoothie that was bursting with watermelon flavour!
I'm considering remaking this one with the addition of fresh mint or basil, both delicious herbs that compliment watermelon. Either way, I'll definitely be enjoying this smoothie at least a few more times this Summer. I hope you'll enjoy it too!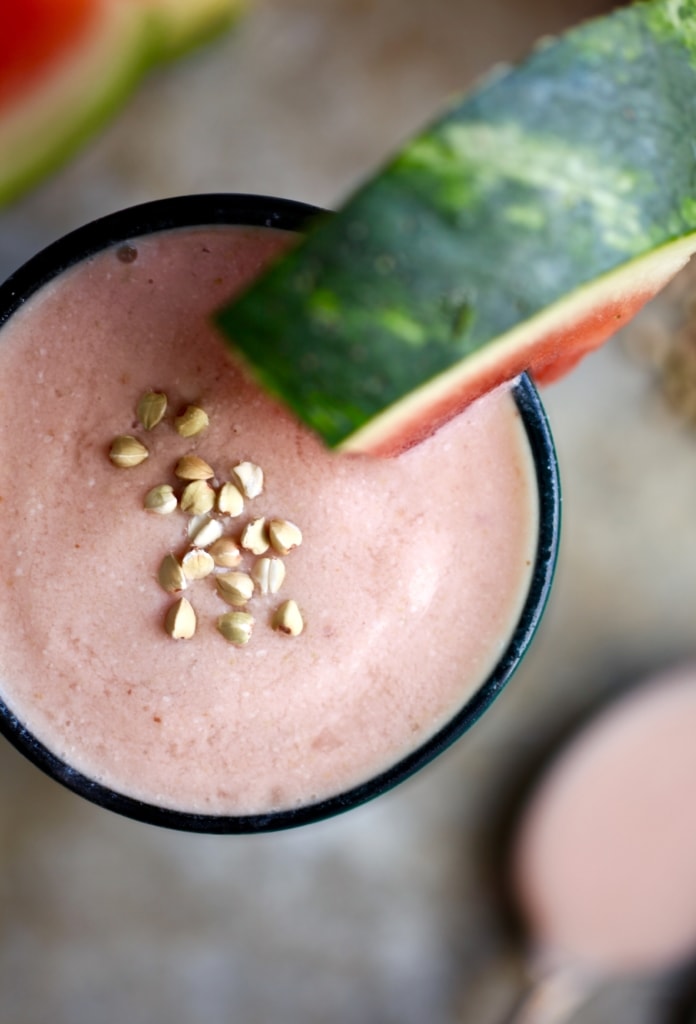 Have you ever made a watermelon smoothie? What do you add to it? I'd love to hear about it in the comments below! 

Creamy Watermelon Banana Buckwheat Smoothie (DF & GF)
Ingredients
2 tablespoons buckwheat groats + 3 tablespoons coconut milk*
½ cup coconut milk*
2 tablespoons plain coconut yogurt (or other plain yogurt of choice)
½ banana, frozen works best*
1 cup watermelon, frozen works best*
¼ cup frozen raspberries
1-2 tsp honey
Instructions
In a small bowl add the buckwheat and 3 tablespoons of coconut milk.
Set aside and allow the buckwheat to soak for 15-20 minutes.
Once soaked add the buckwheat groats to a blender with the remaining ingredients.
Blend until smooth.
Pour into a glass and sprinkle with a few buckwheat groats to garnish.
Enjoy!
Notes
*use organic coconut milk from the carton or organic light canned coconut milk
* For a colder, creamier consistency, using frozen banana and watermelon is best, so just freeze these ahead of time.
Nutritional Information
Serving size:
1
Calories:
210
Fat:
5
Carbohydrates:
43
Fiber:
6
Protein:
3
Christal
Nutritionist in the Kitch