Sheet-Pan Thai Peanut Curry Bowl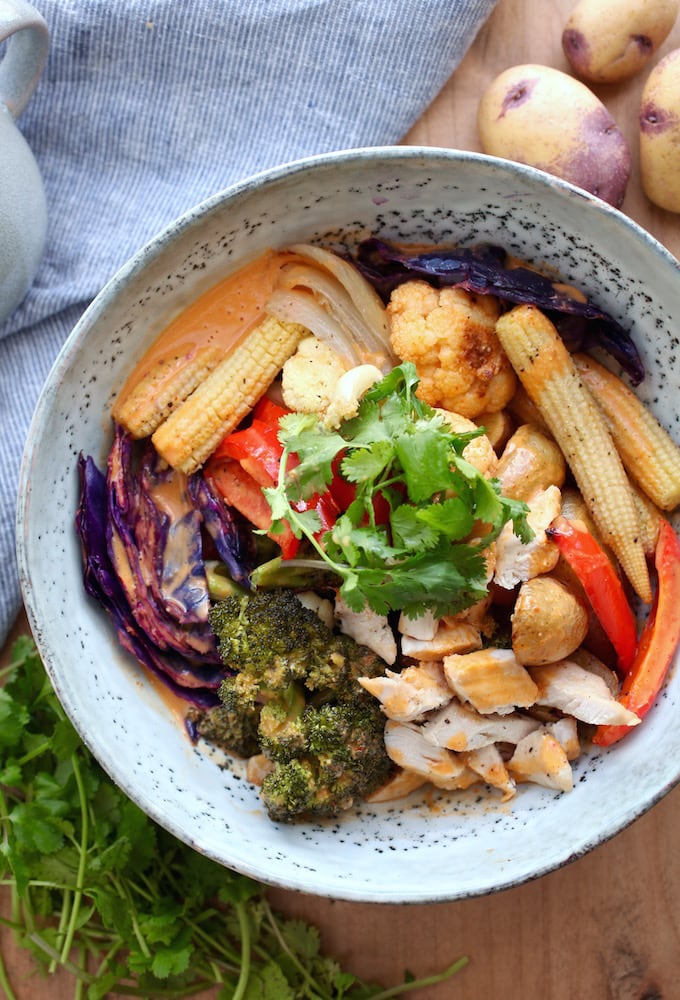 6 ounces raw chicken breast, sliced into strips
½ sweet onion, sliced
¼ head of red cabbage, left in large chunks
½ red bell pepper, sliced
10 creamer potatoes, halved
¾ cup broccoli florets
¾ cup cauliflower florets
1 cup baby corn
½ tablespoon olive oil
¼ tsp salt
¼ tsp pepper
Thai Peanut Curry Sauce:
⅓ cup full-fat coconut milk
1 tablespoon peanut butter
1 tablespoon red Thai Curry Sauce
juice from 1 small lime
1-2 teaspoons coconut palm sugar (depending on desired level of sweetness)
small bunch of fresh cilantro
2 lime wedges
Preheat the oven to 350 degrees.
Line a large baking sheet with parchment paper.
Assemble the sheet pan ingredients, chicken, vegetables, and potatoes over the pan in groups.
Drizzle everything with the olive oil and toss slightly to coat the ingredients with the oil.
Sprinkle over the salt and pepper.
Place in the oven and roast for 25 minutes, checking after 15 minutes or so to flip/toss chicken and vegetables.
When the sheet pan ingredients have about 5 minutes left in the oven, prepare the sauce.
Heat a large pan over medium heat and add in the peanut and curry sauce.
Heat for 20 seconds then add in the lime and coconut milk, and use a whisk to stir until the sauce is smooth and comes to a slight simmer.
Add in the coconut sugar, and stir again until the sugar is completely dissolved.
Remove from heat.
Remove the pan from the oven and divide the cooked chicken, vegetables, and potatoes between two bowls.
Pour ½ of the sauce over each bowl and garnish with a small bunch of cilantro and a squeeze of fresh lime.
Enjoy!
Recipe by
Nutrition in the Kitch
at https://nutritioninthekitch.com/sheet-pan-thai-peanut-curry-bowl/