Better No-Bake Nanaimo Bars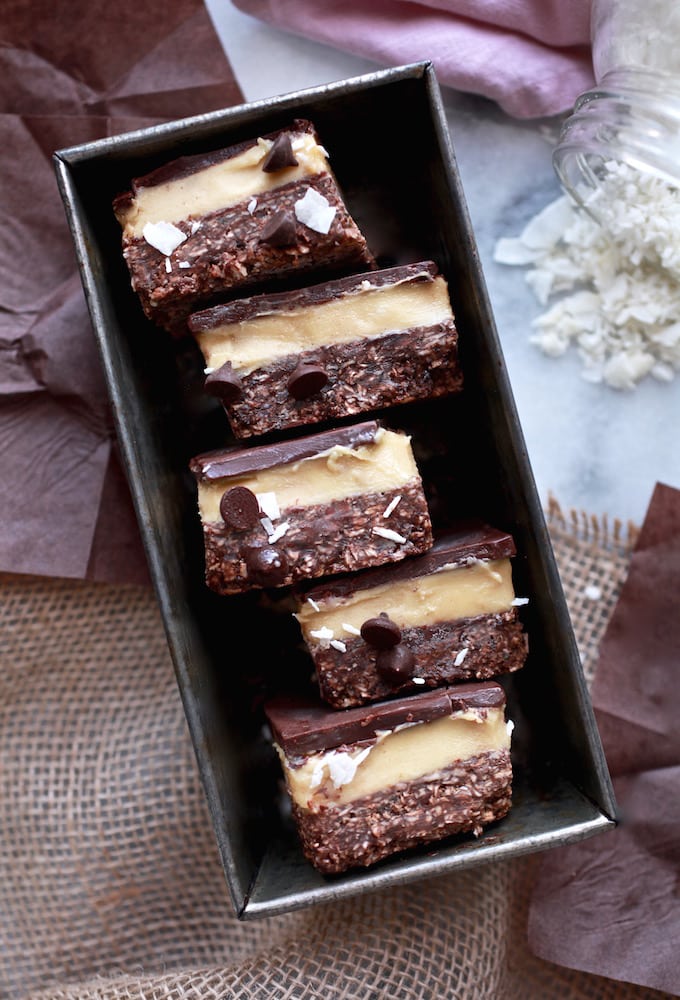 Nanaimo Base:
⅓ cup vegan butter
3 tablespoons pure maple syrup
1 tablespoon Silk Coconut Coffee Whitener (or full fat coconut milk)
1 tablespoon ground flaxseed + 2 tablespoons warm water
3 tablespoons raw cocao powder
¾ cup + 2 tablespoons shredded unsweetened coconut
½ cup gluten free rolled oats
¼ cup hemp seeds
Cream Layer:
¼ cup vegan margarine
¾ cup soaked cashews (soak in ¾ cup water for 4 hours the drained)
3 tablespoons Silk Coconut Coffee Creamer (or full fat coconut milk)
½ cup organic icing sugar, sifted
2 tablespoons custard powder
Chocolate Layer:
½ cup 70% dark chocolate chips (dairy free)
2 tablespoons coconut oil
Soak the cashews ahead of time.
In a small bowl add the flaxseed with 2 tablespoons of warm water and set aside.
Next, add the shredded coconut, oats, and hemp seeds to a food processor and process on high for 10 seconds until the mixture is crumbly and all the ingredients are well incorporated, transfer to a medium sized mixing bowl and set aside.
Heat a small non-stick pan over low heat and add in the vegan butter, pure maple syrup, raw cocao powder, flaxseed mixture and Silk coconut coffee whitener (or coconut milk) and stir until everything is melted and smooth.
Add the melted cocao mixture to the bowl with the blended coconut, oats, and hemp seeds and stir until everything is well combined.
Transfer the nanaimo base mixture to an 8x8 pan lined with parchment paper and press firmly to create the first layer. Place the pan in the freezer while creating the next layer.
For the Cream Layer, add all of the ingredients to a high-speed blender and blend until completely smooth.
Remove the pan from the freezer and pour the cream layer evenly over the nanaimo base.
Place the pan back in the freezer for 30 minutes.
Next, prepare the Chocolate layer. Using a double boiler or a small saucepan, heat the chocolate chips and coconut oil to melt and stir until smooth.
Remove from heat and once the nainamo base and cream layer have chilled for 30 minutes, pour the chocolate layer over the cream layer and smooth over evenly with a spatula.
Place the pan back in the freezer and freeze for 4 hours.
When ready to enjoy, cut into 8 large or 16 small squares.
Store Nanaimo Bars in the freezer and thaw for 10 minutes before consuming.
Recipe by
Nutrition in the Kitch
at https://nutritioninthekitch.com/better-no-bake-nanaimo-bars/