Zesty Orange Beef & Broccoli Power Bowls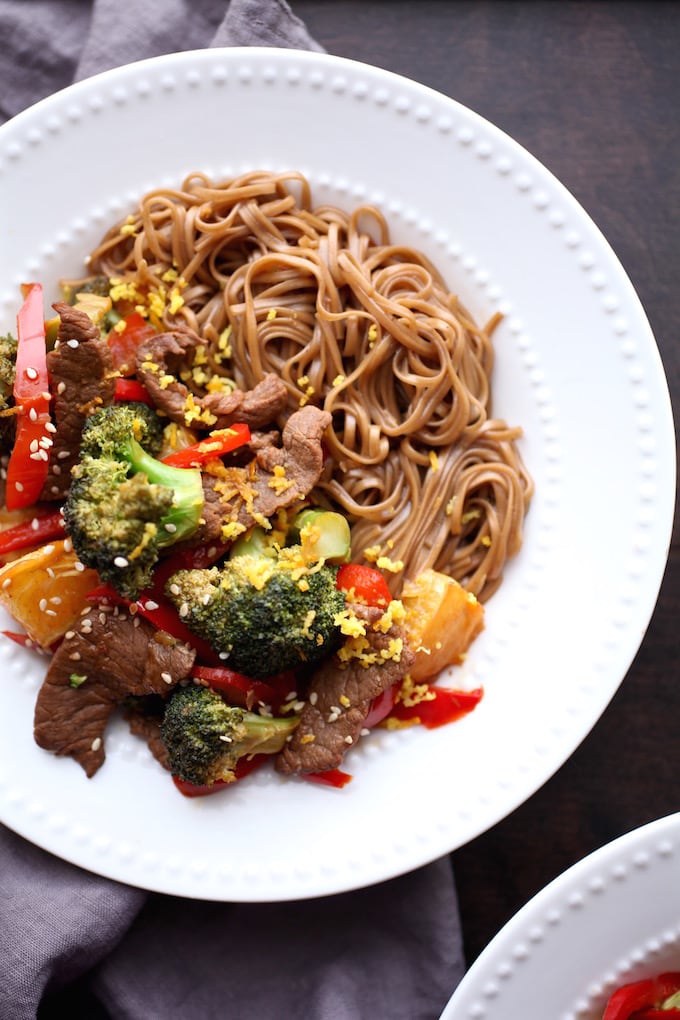 Author:
Christal Sczebel - Power Bowls // Sterling 2018
Zesty Orange Sauce:
3 tablespoons cold water
1 tablespoon tapioca starch
2 tablespoons rice vinegar
¼ cup gluten-free soy sauce
3 tablespoons orange juice
2 tablespoons coconut palm sugar
Bowls:
½ tablespoon olive oil
8 ounces beef sirloin, cut into strips
1½ cups broccoli florets
1 red bell pepper, cut into strips
½ navel orange, cut into chunks
1 clove garlic, crushed
90g dry soba (buckwheat) noodles
½ tsp orange zest
½ tsp roasted sesame seeds
Prepare the sauce by whisking together the tapioca starch with the water in a bowl until the tapioca is completely dissolved.
Add in the rest of the sauce ingredients and whisk together until the coconut sugar is completely dissolved. Set aside.
Heat the olive oil in a large wok or saucepan over medium-high heat and add in the beef strips and crushed garlic.
Sauté for 1-2 minutes to slightly brown the beef.
At the same time, bring a medium sized pot of water to a boil.
Pour in the sauce and reduce the heat to medium. The sauce will quickly begin to thicken and bubble.
Add in the broccoli and bell pepper and fry with the sauce to coat the vegetables and the meat well.
Cover the wok or pan with a lid and let the vegetables continue to cook with the beef and sauce.
Once the water in the pot has a reached a boil, add in the soba noodles and cook according to package instructions.
Reduce the pan with the beef and vegetables to low and add in the chopped orange. Give it another stir to coat the orange with the sauce, and reduce the heat to low.
Once the noodles are done cooking (they take about 3-4 minutes to cook), transfer to a strainer, drain, and rinse with cold water (this will prevent the noodles from overcooking and sticking together).
Divide the noodles between two large bowls, and then top the noodles in each bowl with ½ of the beef and vegetable mixture.
Garnish with a sprinkling of orange zest and roasted sesame seeds over each bowl.
Recipe by
Nutrition in the Kitch
at https://nutritioninthekitch.com/zesty-orange-beef-broccoli-power-bowls/