No-Bake Frosted Walnut Brownies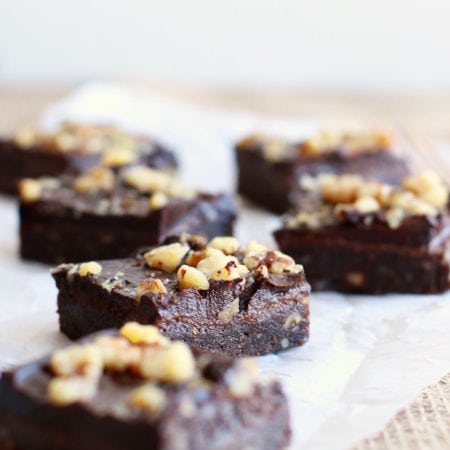 Brownies:
2 cups pitted dates (very soft, or soak for 10 minutes in hot water then drain)
¼ cup cocoa powder (superior red cocoa powder works best for this recipe!)
1 tablespoon unsweetened almond milk
1 tsp pure vanilla extract
¼ tsp sea salt
2 cups raw walnuts
Chocolate Frosting:
Flesh of 2 ripe avocados
¼ cup raw honey or pure maple syrup
¼ cup cocoa powder (superior red cocoa powder works best for this recipe!)
1 tsp pure vanilla extract
Toppings:
⅓ cup crushed raw walnuts
¼ teaspoon sea salt (optional)
Add the dates to a food processor and process on high to break into smaller pieces.
Add in the cocoa, vanilla, almond milk, and sea salt and process again until a dough-like texture is achieved.
Using a spatula, scrape the dough from the processor and transfer to a bowl.
Next, add in the walnuts and pulse until crumbly.
Add the dough mixture back to the food processor with the walnuts and process so that the walnuts can blend together with the dates until everything is well combined (you may need to use a spatula to scrape the sides periodically), this is the brownie mixture.
Line an 8x8 baking pan with parchment paper and transfer the brownie mixture to the pan and press firmly and evenly into the pan.
Place the pan in the freezer to set and then prepare the chocolate frosting.
Rinse the food processor and wipe clean, then add in all of the frosting ingredients and process on high until completely smooth.
You may also need to use a spatula to scrape the sides periodically as you blend together the frosting ingredients.
Transfer the frosting to a bowl and set in the fridge to chill for 20 minutes as the brownie batter continues to set.
After 20 minutes, remove the brownie pan from the freezer and spread the frosting evenly over the brownie layer.
Sprinkle the crushes raw walnuts over the frosting and sea salt if using.
Return the pan back to the freezer for another 20-30 minutes to set, or until the frosting is mostly firm to the touch.
Once frosting is the right consistency, remove the pan from the freezer and cut into 9 brownie squares.
Enjoy!
Store brownies in the fridge or freezer, and serve immediately when at room temperature as the frosting will soften relatively quickly.
Recipe by
Nutrition in the Kitch
at https://nutritioninthekitch.com/no-bake-frosted-walnut-brownies/