Baked Carrot Cake Protein Donuts with Cashew Frosting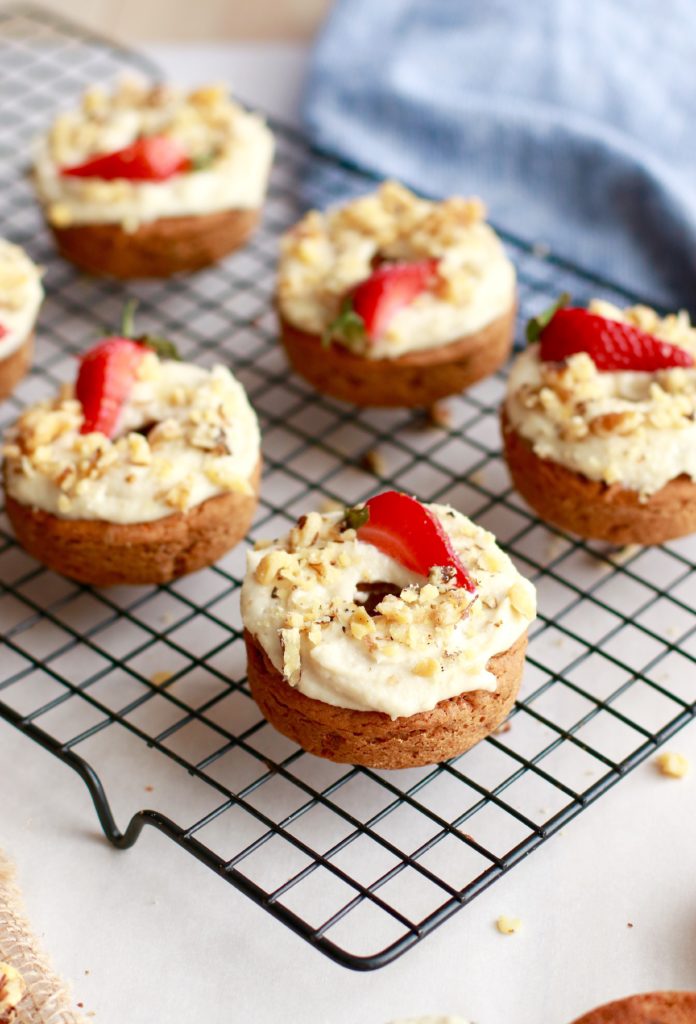 ½ cup unsweetened coconut yogurt
½ cup unsweetened apple sauce
¾ cup coconut palm sugar
¼ cup collagen peptides (optional)
½ cup unsweetened almond milk
1 tbsp lemon juice
1 tsp vanilla extract
2¼ cups brown rice flour
⅓ cup tapioca flour
1 tsp baking powder
1 tsp baking soda
1 tbsp cinnamon
1 tsp ginger
¼ tsp salt
1½ cup grated carrots
½ cup chopped walnuts
Cashew Frosting:
¾ cup raw cashews, soak in hot water for 20 minutes (or overnight in the fridge)
¼ cup unsweetened coconut yogurt
3 tbsp maple syrup (or raw honey)
1 tbsp lemon juice
1 tsp vanilla extract
Optional Garnish:
¼ cup chopped walnuts
sliced strawberries
Preheat oven to 350 degrees.
In a large mixing bowl combine the coconut yogurt, applesauce, coconut pam sugar, collagen peptides (optional), lemon juice, vanilla, and almond milk and stir until smooth.
To the same bowl add in the brown rice flour, tapioca flour, baking powder, baking soda, cinnamon, ginger, and salt.
Stir until you have a thick smooth batter.
Fold in the carrots and walnuts.
Grease 2 6-cavity donut pans well with coconut oil or another oil of choice (I use these silicon donut pans)
Bake the donuts for 20 minutes or until a toothpick pulls clean.
Remove from the oven and cool completely before removing from the donut pan.
For the frosting, drain the cashews and add the cashews and the remaining frosting ingredients to a high speed blender.
Blend on low, and slowly increase to high, stopping periodically to scrape the sides with a spatula.
Blend frosting until completely smooth.
Remove from the blender and frost the donuts (once they are completely cooled), then garnish with the chopped walnuts and sliced strawberries.
Enjoy immediately or store the donuts in the fridge for up to 2 days.
Recipe by
Nutrition in the Kitch
at https://nutritioninthekitch.com/baked-carrot-cake-protein-donuts-with-cashew-frosting/