Healthy Aloha Chicken Burgers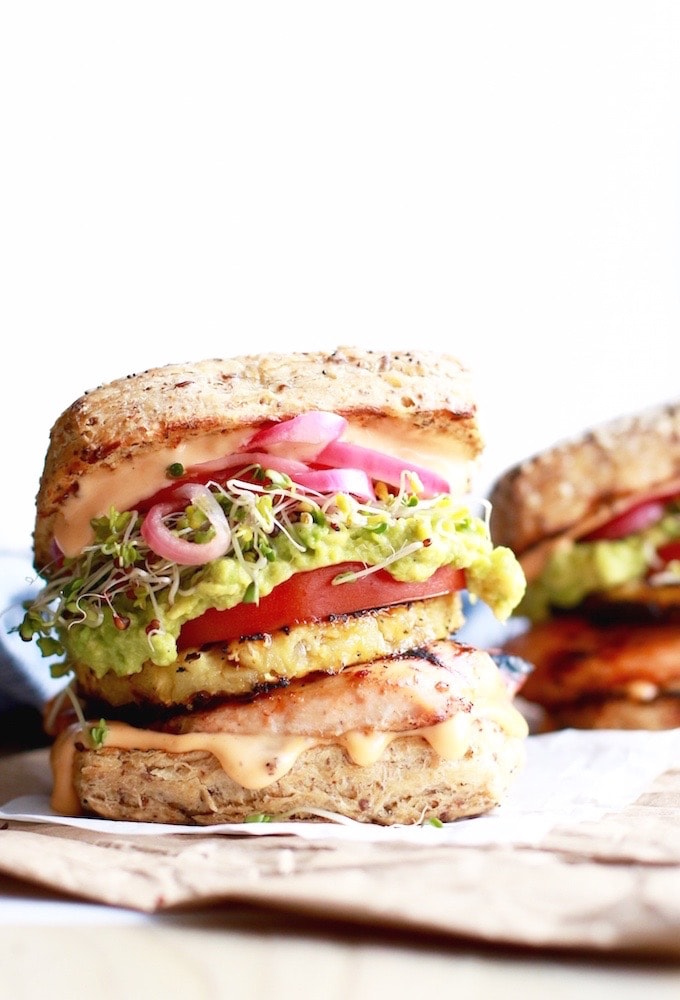 4 gluten-free seeded burger buns (or whatever healthy buns your heart desires!)
4 thick sliced (1/2") pineapple rings
4 slices of tomato
4 tablespoons organic mayonnaise or thousand island dressing*
1 cup deli sprouts
¼ cup homemade quick pickled onions (use this recipe)
Huli Huli Chicken:
4 x 4oz skinless boneless chicken breasts
½ tsp minced ginger
½ tsp minced garlic
1 tablespoon coconut palm sugar
2 tablespoons organic ketchup
1 tablespoon sesame oil
⅛ tsp salt
⅛ tsp pepper
Mashed Avocado:
1 avocado, pitted, peeled and mashed with a fork
juice from ½ lime
pinch of salt
pinch of pepper
Start by preparing the quick pickled onions (if using) and set in the fridge to chill (for at least 30 minutes) while you prepare the rest of the burger recipe.
Place the chicken breasts in a large bowl and set aside.
In a small bowl combine the ginger, garlic, coconut palm sugar, ketchup, sesame oil, salt, and pepper and mix well.
Add the sauce to the bowl with the chicken breasts and mix to coat the chicken.
In another small bowl add the mashed avocado ingredients and set in the fridge to chill.
Preheat your grill or BBQ.
Add the chicken breast to the grill and cook until done.
Halfway through cooking add the pineapple slices to the grill and grill for 4-5 minutes on each side until slightly browned with grill marks.
Once chicken breast and pineapple are finished grilling assemble the burgers.
Spread 1 tablespoon of mayo or thousand island dressing onto each bun, add the chicken breast the bottom half of each bun and layer with the pineapple rings, tomato, mashed avocado, sprouts, and pickled onions.
Enjoy!
*choose an organic thousand island dressing free of refined sugars if possible!
Recipe by
Nutrition in the Kitch
at https://nutritioninthekitch.com/healthy-aloha-chicken-burgers/