Healthier Ice Cream Sandwiches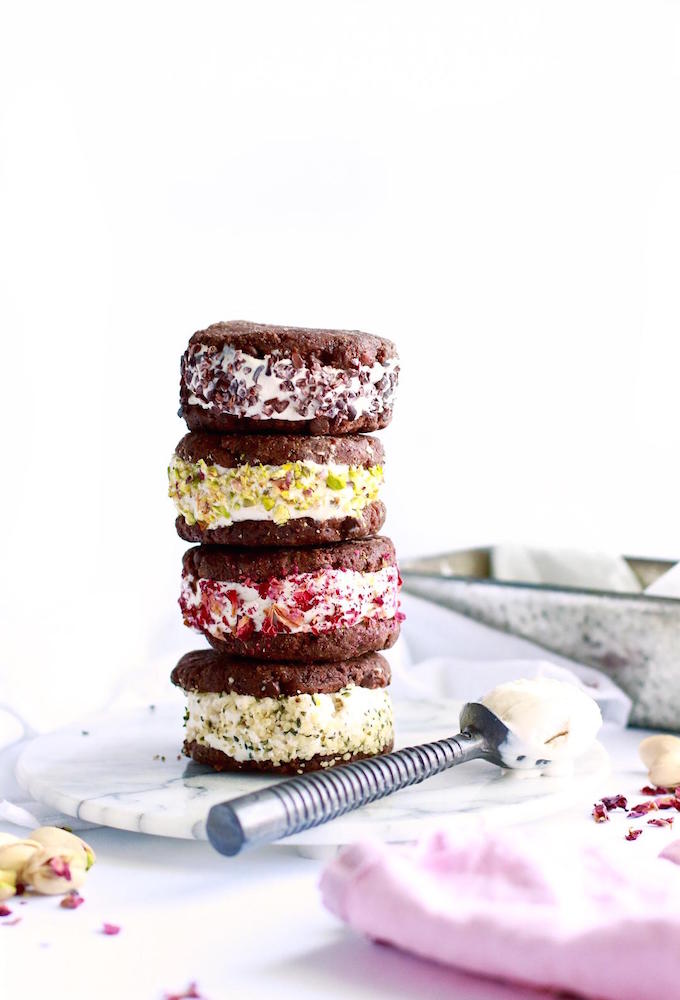 Chocolate Cookies:
⅓ cup avocado oil
½ cup + 2 Tbsp coconut palm sugar
¼ cup unsweetened almond milk or another non-dairy milk of choice
1 large egg
¾ cup oat flour
¾ cup brown rice flour
2 tablespoons cocoa powder
½ tsp baking powder
pinch salt
½ cup dark chocolate chips
Ice Cream Filling:
1 cup of your favourite dairy free vanilla ice cream (I used Coconut Bliss)
Optional Garnishes:
hemp seeds, cocao nibs, crushed nuts, crushed rose petals
Line a cookie sheet with parchment paper and preheat the oven to 350 degrees.
In a medium-sized mixing bowl combine the oil, milk, egg, and coconut palm sugar and whisk to combine.
In another bowl combine the oat flour, rice flour, cocoa powder, baking powder, and salt, and mix to combine.
Add the dry mixture to the wet mixture and stir to combine, be sure not to over-mix.
Fold in the chocolate chips.
Scoop heaping tablespoons of the cookie batter and roll into balls, then set on the baking sheet and press into ¼" thick rounds (the cookies will only slightly expand in the oven).
Make 12-14 cookies.
Bake for 8-12 minutes or until slightly browned on the bottom but still a bit soft to the touch.
Allow the cookies to cool completely then place in the freezer for 30 minutes to chill (chilling the cookies will make it easier to assemble the sandwiches).
Once chilled scoop a 2 tablespoon sized scoop of ice cream on the flat side of one cookie, then top with another cookie and press to sandwich the ice cream.
Repeat the process to make 6-7 ice cream sandwiches total.
Roll the sandwiches in the optional garnishes and chill again for 30 minutes to 1 hour.
Enjoy!
Recipe by
Nutrition in the Kitch
at https://nutritioninthekitch.com/healthier-ice-cream-sandwiches/