Quick Layered Blueberry Oat Jars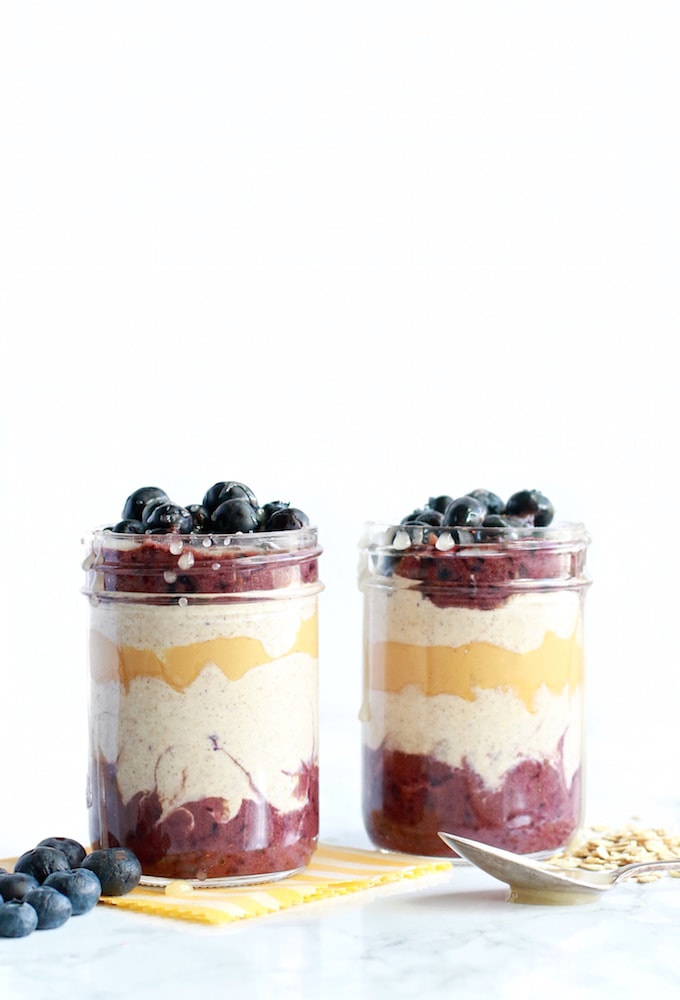 Blueberry Layer:
1 scoop BiomeBliss Powder
1 cup fresh blueberries
1 tablespoon water
Oat Layer:
⅔ cup unsweetened vanilla almond milk
½ cup plain unsweetened coconut yogurt
½ cup rolled oats
1 tablespoon chia seeds
1 tablespoon honey or pure maple syrup (optional)
½ teaspoon vanilla extract
½ teaspoon cinnamon
Other Ingredients:
2 tablespoons Blueberry Layer
¼ cup fresh blueberries
2 tablespoons natural unsweetened nut butter of choice
2 teaspoons honey (optional)
Begin by creating the blueberry layer.
In a small food processor or blender add the BiomeBliss powder, fresh blueberries, and water and blend until smooth. (if not using the powder blend the blueberries with the water and 2 teaspoons of honey)
Using two 8oz jars, divide the blueberry mixture between the jars, reserving two tablespoons as a garnish.
Rinse the blender or processor.
In a medium sized bowl combine the Oat Layer ingredients, stir, and let sit for 5 minutes to thicken.
Once thickened add to the blender or processor and blend until completely smooth.
Divide half of the oat mixture between the two jars to top the blueberry layer.
Top the oat layer in each jar with 1 tablespoon of nut butter then top with the remaining oat mixture.
Finish by adding 1 tablespoon of the reserved blueberry mixture to each jar, then top with the fresh blueberries, and drizzle each with 1 teaspoon of honey for a sweeter option.
Enjoy immediately or chill in the fridge for later.
Recipe by
Nutrition in the Kitch
at https://nutritioninthekitch.com/quick-layered-blueberry-oat-jars-and-lets-chat-prebiotics/