Healthy Oatmeal Cookie Energy Balls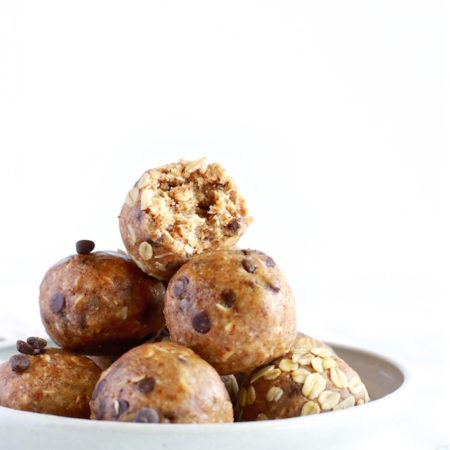 1½ cups raw almonds
½ cup gluten-free rolled oats + ¼ cup for garnish
¼ cup natural almond butter
3 tablespoons coconut oil, melted
3 tablespoons pure maple syrup (or raw honey)
1 teaspoon pure vanilla extract
pinch of salt
¼ teaspoon of cinnamon
⅓ cup mini dark chocolate chips (or raisins)
In a food processor or high speed blender pulse almonds to a flour.
Transfer 'almond flour' to a bowl and stir in rolled oats.
Next, add in almond butter, maple syrup, coconut oil, vanilla, cinnamon and salt then stir to combine.
You will have a cookie dough type of mixture (it may be slightly crumbly but will come together in the freezer once the coconut oil hardens).
Stir in the dark chocolate chips (or raisins) and take golf ball sized portions of the batter and using clean hands and roll into a ball shape with the palm of your hands.
Set the ball on a cookie sheet or large plate and repeat the process until you have 12-14 balls total.
Take the remaining ¼ cup of rolled oats and spread them out over another large plate and roll the balls in the oats to lightly coat (or just ½ of the balls, or none at all if you would rather have them 'naked')
Freeze for 30-60 minutes to set as this will help the balls stay together and not crumble.
Store in a cool, dry place for up to 5 days, or in the fridge for up to 2 weeks, or the freezer for up to 1 month.
Recipe by
Nutrition in the Kitch
at https://nutritioninthekitch.com/healthy-oatmeal-cookie-energy-balls-no-dates/