Blueberry Banana Protein Pancake Bowls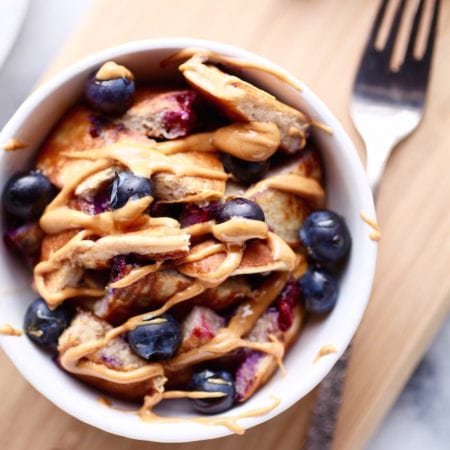 2 ripe medium bananas, peeled (185g peeled weight)
1 tablespoon almond flour
1 whole egg
2 egg whites
2 tablespoons peanut butter, divided
¼ tsp baking powder
½ tsp pure vanilla extract
⅛ tsp salt
⅓ cup + 2 tablespoons fresh blueberries
1 tablespoon pure maple syrup, divided
Add the bananas, almond flour, egg, egg whites, 1 tablespoon peanut butter, baking powder, vanilla extract, and salt to a blender.
Blend on low for 20-30 seconds until well incorporated and mostly smooth. There may be small chunks of banana remaining and that is fine.
Transfer pancake batter to a bowl and stir in ⅓ cup fresh blueberries.
Heat a griddle or a large non-stick pan over medium heat and grease lightly with coconut oil or cooking spray.
Pour "sand dollar" sized portions (about 3 inches in diameter) of the batter onto the pan or griddle.
Cook 2-3 minutes on one side, and when the pancake begins lightly bubble, it is ready to be flipped.
Cook 1-2 minutes more on the other side.
Repeat the process to make 10 pancakes total.
Create two stacks of 5 pancakes and cut the pancakes evenly into quarters.
Divide the quartered pancakes between two small bowls and top each bowl with 1 tablespoon of fresh blueberries, and then drizzle ½ tablespoon of peanut butter and ½ tablespoon of pure maple syrup over each bowl to garnish.
Enjoy!
Recipe by
Nutrition in the Kitch
at https://nutritioninthekitch.com/blueberry-banana-protein-pancake-bowls/