5-Ingredient Cookie-Dough Energy Balls...Boosted 4 Ways!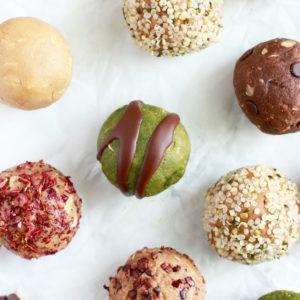 Cookie-Dough Energy Balls
1½ cups almond flour
¾ cup gluten-free rolled oats (pulse ¼ cup into flour)
¼ cup natural almond, cashew, or peanut butter
3 tablespoons melted coconut oil
3 tablespoons pure maple syrup (or raw honey)
PROTEIN PACKED:
2 scoops Sunwarrior Classic protein powder
2 tablespoons + 2 tablespoons hemp seeds (for rolling)
1 tablespoon pure maple syrup
CAFFEINATED:
1 tablespoon My Matcha Life matcha green tea powder or ½ tablespoon of ground coffee or 1 packet of Four Sigmatic coffee mix OR 1 tablespoon Dandy Blend
⅓ cup melted dark chocolate
BETTER BUTTERS:
swap out nut butter for a boosted nut butter like Rawtella, Jem butter, or another artisanal nut butter
⅓ cup dark chocolate chips
SPECIAL SUPERFOODS:
½-1 tablespoon superfood powder of choice -Four Sigmatic mushroom elixir of choice, maca powder, acai powder
2 tablespoons cocoa nibs or crushed rose petals
Pusle or blend ¼ cup of the rolled oats in a food processor or blender until fine like a flour, then remove and add to a large bowl.
To the bowl add the almond flour, remaining whole rolled oats, and any dry ingredients you are using from the boosted options (ie. protein powder, hemp seeds, matcha powder, dandy blend, maca powder).
Stir the dry ingredients to combine.
Next, add in the nut butter (or boosted "better butter"), and the melted coconut oil, and pure maple syrup (if you are making the protein packed version you will need to add in an extra tablespoon of pure maple syrup for moisture).
Stir everything to combine until you have a cookie-dough batter consistency. The dough may be slightly crumbly but will stick together when rolling the balls.
At this time you can either just roll the batter into golf-ball sized balls using clean, slightly wet hands, or you can stir in the dark chocolate chips if making the "better butter" version.
Set each ball onto a large cookie sheet or plate and repeat until you have 12-14 balls total.
If making the "protein packed" or "special superfoods" version roll the balls in the hemp seeds, cocoa nibs, or rose petals to lightly coat.
If making the "caffeinated" version, dip the balls in the melted chocolate or drizzle with the melted chocolate.
Place the balls in the freezer to set for 30-minutes.
Enjoy!
Store energy balls in the fridge for up to 2 weeks, on the counter in an airtight container for up to 5 days, or in the freezer for up to 1 month.
3.5.3251
Recipe by
Nutrition in the Kitch
at https://nutritioninthekitch.com/5-ingredient-energy-balls-boosted/