Healthy Pear and Apple Crisp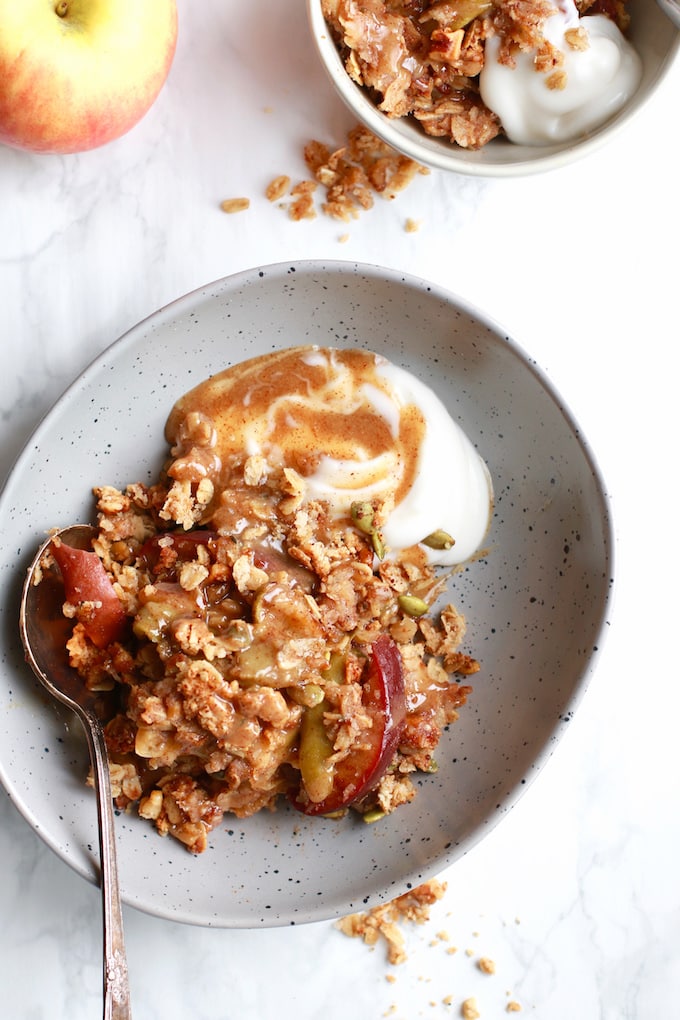 Pear & Apple Filling:
3 ripe pears, cut into wedges
3 red delicious or granny smith apples, sliced into wedges
1 tablespoon tapioca starch (or arrowroot powder or cornstarch)
1 tablespoon lemon juice
¼ cup apple juice
¼ cup pure maple syrup
2 teaspoons ground cinnamon
1 teaspoon minced ginger root
Crisp Topping:
1¼ cup gluten free rolled oats
½ cup almond flour
¼ cup unsweetened shredded coconut
1 tablespoon coconut palm sugar
2 tablespoons raw pumpkin seeds
2 tablespoons hemp seeds
½ cup crushed raw walnuts
½ teaspoon ground cinnamon
¼ teaspoon salt
2 tablespoons melted vegan butter (I used Earth Balance)
2 tablespoons melted coconut oil
¼ cup pure maple syrup
Preheat the oven to 350 degrees.
In a large bowl combine filling ingredients and stir until apples and pears are completely coated.
Pour the pear and apple filling into a large oven-safe baking dish.
In the same large bowl used to make filling, add rolled oats, almond flour, shredded coconut, coconut palm sugar, pumpkin seeds, hemp seeds, walnuts, cinnamon, and salt and stir to combine.
In a smaller bowl whisk together the melted vegan butter, melted coconut oil, and maple syrup and pour into the bowl with the other topping ingredients, stir to combine.
Crumble the crisp topping over the filling in the baking dish and pack down gently.
Bake covered with lid or foil for 25 min, then remove lid/foil and continue baking for 15-20 more minutes or until top is golden and juices are bubbling around edges.
Remove from oven and let cool 20 minutes before serving.
Recipe by
Nutrition in the Kitch
at https://nutritioninthekitch.com/healthy-pear-and-apple-crisp/