Super Healthy Rich & Creamy Hot Cocoa (vegan)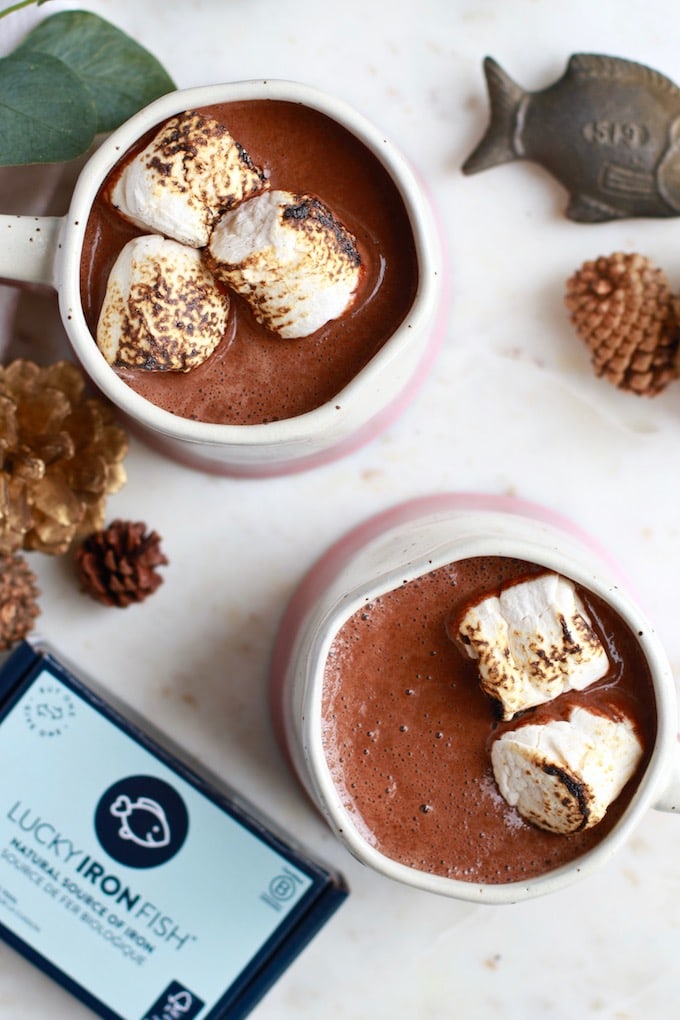 1 cup Lucky Iron Fish enriched water*
1 cup unsweetened almond milk or coconut milk
2 tablespoons almond butter
3 tablespoons raw cocoa powder
¼ cup pitted dates
2 tablespoons pure maple syrup
4 tablespoons collagen peptide powder (optional)
2½ tablespoons chia seeds
In a medium sized pot boil 1 litre of water with the Lucky Iron Fish according to the instructions on the Lucky Iron Fish package, then transfer to a glass jar or other container.
Using the same pot, add the almond or coconut milk, almond butter, cocoa powder, dates, maple syrup, collagen, and chia seeds as well as 1 cup of the iron fortified water.
Over high heat bring pot contents to a low boil, stirring continuously.
Once boiling, remove from heat and transfer everything to a high speed blender.
Blend on low, then increase to the highest speed and blend until completely smooth.
Divide hot chocolate between two mugs and top with dairy free whipped cream, or marshmallows (lightly toasted marshmallows are delicious!), or dark chocolate shavings.
Enjoy while still hot.
*You can use regular water or additional almond milk in place of the iron fortified water, but the added iron is what makes this hot chocolate even healthier!
Recipe by
Nutrition in the Kitch
at https://nutritioninthekitch.com/super-healthy-hot-chocolate/