The Best Ever Gluten Free Blueberry Muffins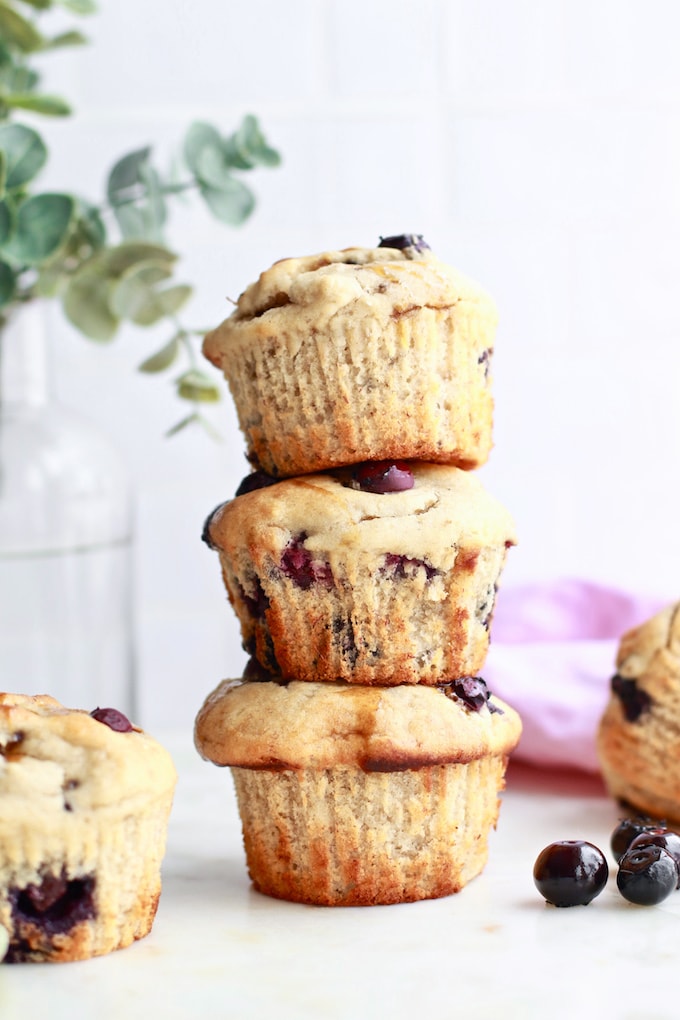 1¼ cup gluten free baking flour blend (I use Bob's Red Mill 1 to 1 Baking Flour)
½ tsp xanthan gum(omit if the flour blend already includes it)
1 teaspoon baking powder
½ teaspoon baking soda
¼ cup + 2 tablespoons collagen protein powder (optional, if not using collagen use additional 2 tablespoons gluten free flour)
⅛ tsp salt
¼ cup pure honey (it should be somewhat runny/pourable in consistency, not completely solid)
2 tablespoons avocado oil (or olive oil)
1 teaspoon pure vanilla extract
3 medium very ripe bananas (spotty)
¾ cup fresh blueberries
Spray the top of a muffin tin with olive oil spray (or grease with coconut oil) and place 9 muffin liners in the tin.
Place the oven rack in the top ⅓ of the oven and preheat the oven to 400 degrees.
In a large bowl add the flour, xanthan gum (if needed), baking powder, baking soda, collagen (if using), and salt and using a whisk, stir to combine until everything is completely incorporated.
In a blender add in the honey, avocado oil, vanilla, and banana and blend on low until the mixture is just smooth with few clumps (about 10 seconds), be sure not to over-mix.
Pour the wet banana mixture into the bowl with the dry mixture and stir until you have a smooth batter.
Fold in the blueberries.
Fill each muffin liner with batter to the very top (this will help get the domed muffin top) and place the muffins in the preheated oven and bake for just 13-15 minutes, or until a toothpick pulls clean.
Let the muffins cool completely before removing the muffin lining.
Garnish with a sprinkle of powdered sweetener or a drizzle of honey (optional)
Enjoy!
*You do not need to use collagen powder in the recipe, this is optional to make the muffins have a higher protein content. If you do not use collagen, use 1¼ cups + 2 tablespoons total gluten free flour blend.
*The key to getting the dome-like top of the muffins is to avoid letting the mixed batter sit for too long once the batter is mixed. Be sure to fill the muffin pan quickly then place the pan right into a hot oven at 400 degrees.
Recipe by
Nutrition in the Kitch
at https://nutritioninthekitch.com/gluten-free-blueberry-muffins/