Roasted Veggie Winter Buddha Bowl with Chicken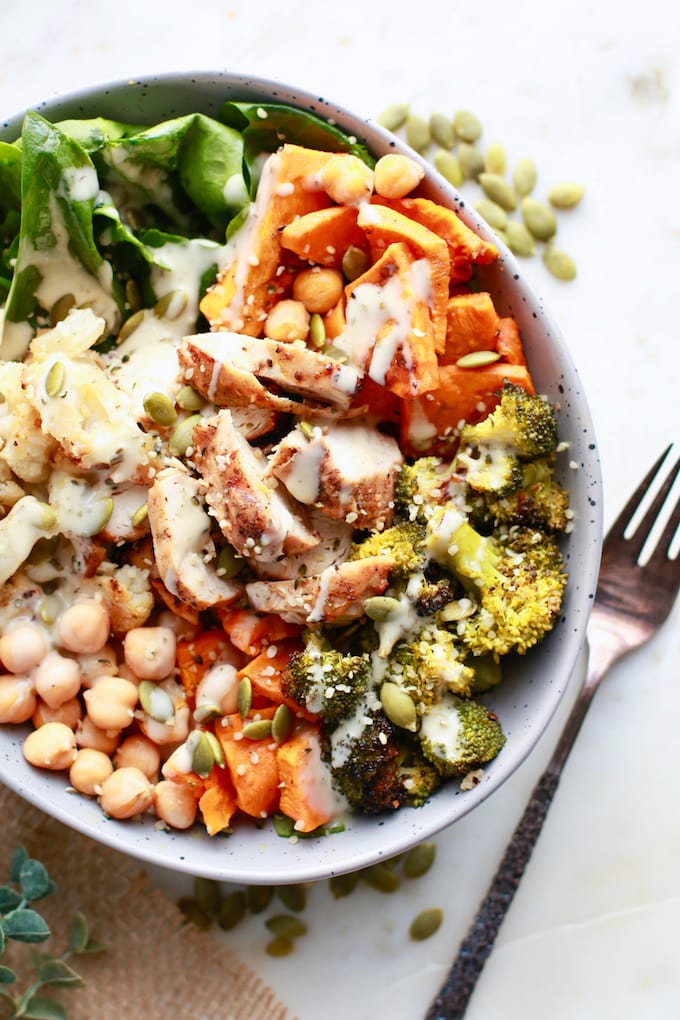 1 tablespoon olive oil, divided
1 6 ounce chicken breast (or swap for 6 ounces of extra firm tofu or tempeh)
1 cup cauliflower florets
1 cup broccoli florets
½ cup diced sweet potato
pinch of salt
pinch of pepper
½ cup cooked chickpeas (canned is fine, preferably organic)
2 cups fresh spinach
1 tablespoon sunflower seeds
1 teaspoon hemp seeds
2 tablespoons of your dressing of choice (paleo ranch, creamy balsamic, lemon garlic, Thai peanut, etc.)
Preheat the oven to 375 degrees.
Line a large baking pan with parchment paper.
Season the chicken breast with salt and pepper and other seasonings of choice (if using tofu or tempeh, do the same)
In a small skillet, heat ½ tablespoon olive oil over medium-high heat and sear the chicken breast for 2-3 minutes on both sides to brown each side but not cook the chicken breast entirely through (if using tofu or tempeh, sear until just browned then set aside and keep warm - you do not need to add the tempeh or tofu to the oven to roast!)
In a large bowl add the cauliflower, broccoli, and diced sweet potato and add in the remaining ½ tablespoon of olive oil and a pinch of salt and pepper.
Toss the vegetables with the oil to coat and spread evenly over the baking pan.
Place the browned chicken breast in the middle of the pan among the vegetables and sweet potato.
Bake for 20 minutes or until chicken is completely cooked through and the vegetables are just browning (check periodically to make sure the vegetables aren't burning, if they are getting too browned, take them off the pan, and place the pan back in the oven to finish roasting the chicken breast and sweet potatoes).
While everything is roasting, add the spinach to a serving dish/bowl.
Once the chicken and vegetables are done, remove from the oven, slice the chicken breast, and arrange the vegetables and chicken over the spinach in the serving dish.
Add in the chickpeas then sprinkle with the sunflower seeds and hemp seeds.
Finish by drizzling the dressing over everything.
Enjoy!
Recipe by
Nutrition in the Kitch
at https://nutritioninthekitch.com/roasted-veggie-winter-buddha-bowl-with-chicken/