Soft & Chewy Chocolate Cookies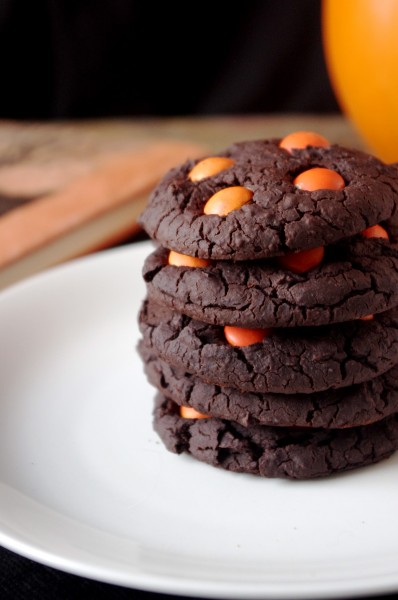 1.5 cups cooked black beans
2 tbsp coconut oil
2 tbsp natural almond or peanut butter
¼ cup unsweetened almond milk
½ cup organic coconut sugar
¼ cup unsweetened cacao powder
1 tsp baking powder
½ tsp salt
60 orange organic chocolate Sundrops* (optional, but accounted for in nutritional info, you can also use a dairy-free chocolate chip)
Preheat oven to 350 degrees.
Rinse the beans thoroughly and drain.
Add beans to a food processor together with oil, nut butter and almond milk.
Blend until smooth.
Sift together coconut sugar, cacao powder, baking powder and salt and add to the bean mixture. Blend again until all is combined.
Line a baking sheet with parchment paper or lightly grease a baking sheet and spoon 12 evenly distributed dollops of batter.
The cookies may need some help shaping into rounds, so just smooth them out with a spoon.
Bake 20 minutes.
The cookies will still be soft when you take them out of the oven, so while they are still hot and soft, place sundrops in the tops, gently pushing them down into the soft cookie.
Set a side for a few minutes to harden before transferring to a rack to cool completely.
Enjoy!
Sundrops can usually be found at most organic grocery stores, or in the bulk section at your regular grocery store.
Serving size:
1 cookie
Calories:
94 kcal
Fat:
5g
Carbohydrates:
8g
Sugar:
5g
Fiber:
2g
Protein:
3g
Recipe by
Nutrition in the Kitch
at https://nutritioninthekitch.com/soft-chewy-chocolate-halloween-cookies/