The Best Homemade Healthy Peanut Butter Cups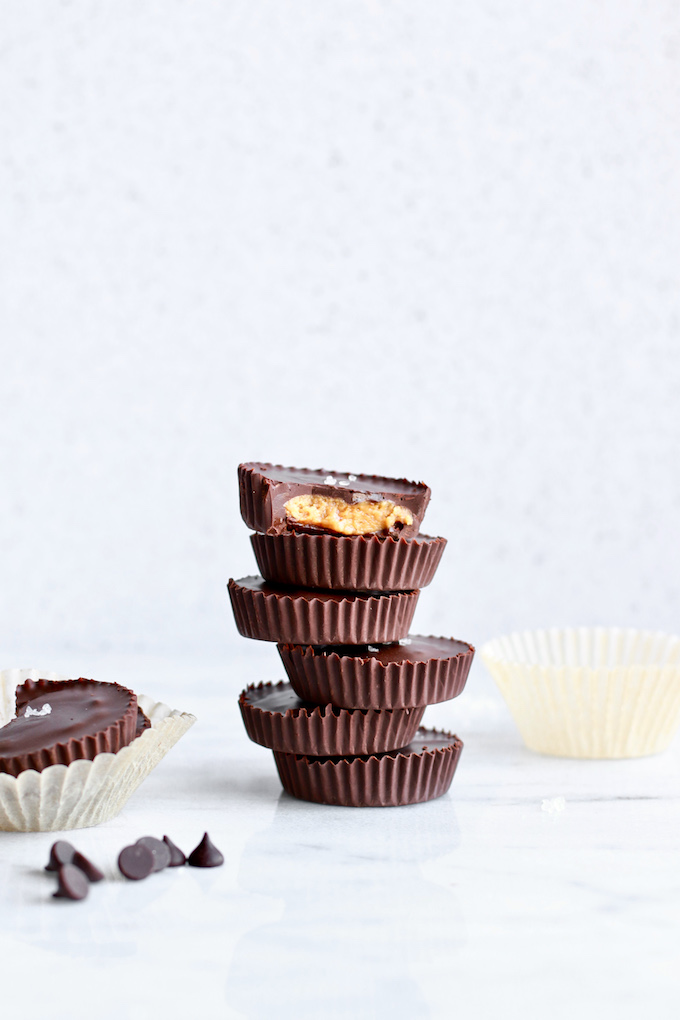 1 heaping cup 70% dark chocolate chips
½ cup natural peanut butter, salted or non salted (make sure it's pourable, not super dry)
2 tablespoons pure maple syrup
1-2 teaspoons Nature's Way Primadophilus Children's Probiotic powder (see notes)
Sea salt to garnish (optional)
Line a muffin tin with 10 paper muffin liners.
In a bowl combine the peanut butter, maple syrup, and probiotic powder (if using) and stir until everything clumps together in a soft mound and all is well combined, then set aside.
In a small pot melt the dark chocolate chips over low heat.
Pour ½ tablespoon of the melted dark chocolate into the bottom of each muffin liner.
Take your finger or a small spoon and swirl the chocolate around in each cup so that it creates a thin layer of chocolate along the inner edge of the muffin liner about 1 cm deep.
Next, scoop 1 tablespoon of the peanut butter filling into your hand and roll it into small ball then flatten it to about 1 cm thick and almost the full diameter of the muffin liner and place it on top of the chocolate layer in the muffin liner.
Do this for all 10 cups.
Lastly, pour the remaining melted chocolate in each muffin cup to cover the peanut butter layer, making sure you cannot see any of the peanut butter layer.
Once all are complete, place the muffin tin in the freezer for 20 minutes or until the chocolate has completely hardened.
Store the peanut butter cups in the fridge or freezer.
- The probiotic powder is optional for this recipe but if you are using it you can use 1 or 2 teaspoons depending on the amount of live probiotic cultures you want in each peanut butter cup.
- I do not recommending more than 2 teaspoons of probiotic powder as it may not blend as well and may change the consistency of the filling.
Recipe by
Nutrition in the Kitch
at https://nutritioninthekitch.com/easy-homemade-healthy-peanut-butter-cups/