Easy Chia Seed Jam Three Ways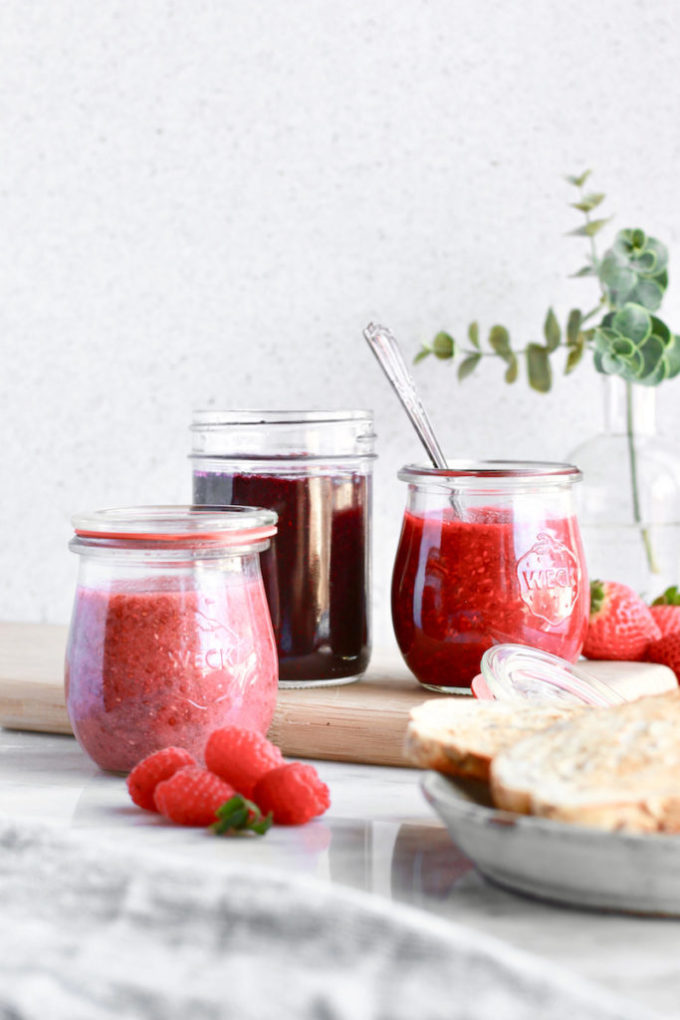 Blueberry Vanilla Chia Jam:
1 cup fresh or frozen blueberries (I used frozen, thawed)
¼ cup water
1 tablespoon honey or other liquid sweetener of choice
½ teaspoon pure vanilla extract
2 tablespoons chia seeds
Raspberry Lemon Chia Jam:
1 cup fresh or frozen raspberries (I used frozen, thawed)
¼ cup water
1½ tablespoons honey or other liquid sweetener of choice
2 tablespoons lemon juice
1 tablespoon chia seeds
Strawberry Ginger Chia Jam:
1 cup fresh or frozen strawberries (I use frozen, thawed)
¼ cup water
1 tablespoon honey or other liquid sweetener of choice
½ teaspoon freshly grated ginger or ¼ tsp ground ginger
1 tablespoon chia seeds
Begin by blending or mashing the fruit (blueberries, raspberries, or strawberries) with the water until you have a purée consistency.
Add the fruit puree to a bowl or jar and add in the chia seeds, sweetener, and lemon, ginger, or vanilla.
Stir everything well to combine and place in the fridge for a minimum of 2 hours, the jam will thicken the longer it stays in the fridge. I find the best consistency is achieved overnight.
Enjoy the jam as desired and keep in the fridge for up to 5 days.
Each Chia Seed Jam recipe makes about 1 cup of jam.
Recipe by
Nutrition in the Kitch
at https://nutritioninthekitch.com/easy-chia-seed-jam-three-ways/