4-Ingredient Dairy Free Ice Cream Cups with Elderberry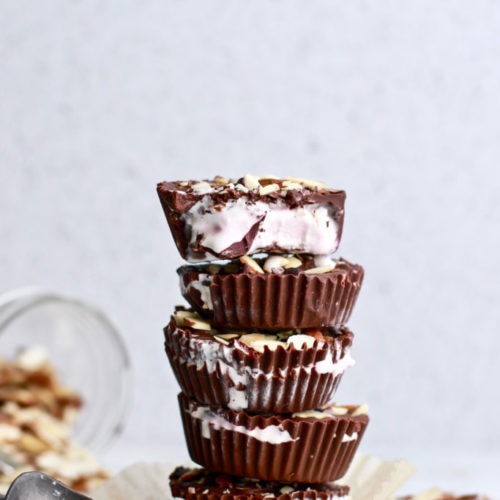 1 cup dairy free vanilla ice cream of choice (I used Coconut Bliss brand)*
½ cup Feel Good Syrup elderberry syrup**
½ cup dark chocolate chips
1 tablespoon coconut oil
¼ cup crushed almond slivers (optional)
¼ cup cocao nibs (optional)
Fill a muffin tin with 8 muffin liners.
Melt the dark chocolate chips with the coconut oil over low heat until smooth, set aside.
In a food processor (or blender) add the vanilla ice cream and elderberry syrup and blend until a soft serve consistency is achieved.
Pour approximately ½ tablespoon of the melted chocolate into each muffin liner and using your finger or a small spoon, swirl the chocolate around so that it makes a thin layer of chocolate along the inner edge of the muffin liner about 1 cm deep.
Add around 2 tablespoons of the ice cream filling to each cup then pour the remaining chocolate over the ice cream filling to cover the ice cream.
The chocolate layer will harden quite quickly, then top each cup with a sprinkle of slivered almonds and cocoa nibs if using.
Place the ice cream cups in the freezer for at least 3-4 hours for the ice cream to harden and set, or preferably leave overnight!
*If you want to make this recipe even healthier, make your own banana ice cream by placing two peeled frozen bananas cut into chunks in a food processor with 1 tsp vanilla extract and process until smooth then freeze for 2 hours.

**You can omit elderberry syrup from the recipe but then you don't get the awesome benefits of elderberry!
Recipe by
Nutrition in the Kitch
at https://nutritioninthekitch.com/homemade-dairy-free-ice-cream-cups/