Easy Shredded Chicken Tinga Tacos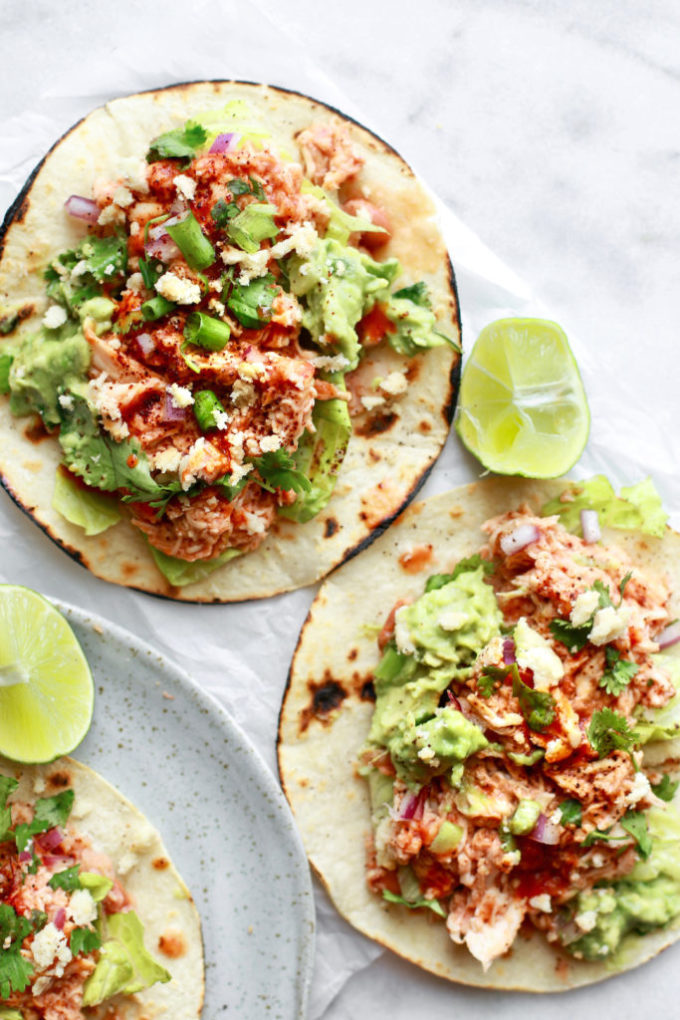 6 white corn taco shells
2 cooked chicken breasts
½ tablespoon Cholula hot sauce (or any hot sauce of your choice)
2 tablespoons lime juice
¾ cup canned tomato sauce
¼ cup salsa verde (jarred green salsa, I used La Costena brand)
¼ teaspoon chipotle powder or ground chipotle
Easy Guacamole:
2 avocaods, pitted and peeled
1 tablespoon salsa verde
2 tablespoons lime juice
¼ tsp salt
Taco Garnishes:
½ cup canned refried beans (1 tablespoon per taco)
1 cup shredded lettuce
¼ cup diced red onion
¼ cup chopped green onion
¼ cup chopped cilantro
¼ cup crumbled dairy free cheese or Mexican cotija cheese (if you can eat dairy)
Hot sauce to garnish (if desired)
2 lime wedges
Prepare the tinga sauce by adding the ½ tablespoon hot sauce, 1 tablespoon lime juice, ¾ cup tomato sauce, ¼ cup salsa verde, and ¼ teaspoon chipotle powder to a small pot or saucepan over medium heat. Cook until bubbling and heated through then remove from heat and set aside.
Add the cooked whole chicken breasts to a stand mixer with the flat mixing paddle attachment and mix on low to medium until the chicken breasts are shredded into smaller bits.
Pour the tinga sauce into the stand mixer with the shredded chicken and mix once more on low for 30 seconds until everything is well combined. Transfer the tinga chicken to a bowl and rinse the stand mixer bowl clean.
Switch out the stand mixer attachment for the chef's whisk and add all of the guacamole ingredients to the stand mixer bowl. Mix on low speed increasing to medium speed for 1 minute or so until the mixture is well combined and a "chunky" guacamole is achieved. Mix longer for a smoothie guacamole consistency.
Prepare the tacos by heating the taco shells for 30 seconds in the microwave (wrap them in a damp paper towel) or slightly toast the taco shells over gas stove burner. Layer on the refried beans, then the chicken tinga (divide evenly among the taco shells), then the lettuce, onion, cilantro, and dairy-free cheese. Drizzle with hot sauce if preferred and a squeeze of lime.
Enjoy!
Recipe by
Nutrition in the Kitch
at https://nutritioninthekitch.com/easy-shredded-chicken-tinga-tacos/