Skillet Eggs & Spinach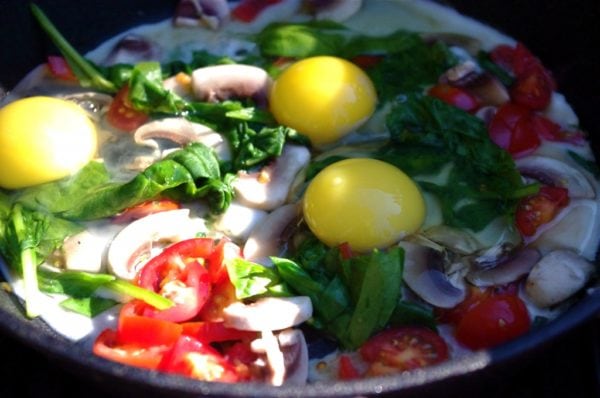 4 large organic eggs
3 white mushrooms, sliced
1 cup fresh spinach
6 cherry tomatoes, halved
¼ cup white onion, diced
salt & pepper
2 tablespoons water
1 slice part skim mozzarella
Heat the skillet on the fire or BBQ till warm (not too hot).
Add the water, onion, and spinach. Stir frequently as skillet heats up until spinach is nicely wilted.
Add mushrooms and tomatoes and cook until softened.
Break each egg gently into the skillet, try not to puncture the yolks, equal distance apart.
Cover the skillet and allow the eggs to cook and vegetables to continue to steam.
Once eggs are cooked to your liking (I like my yolks still slightly runny), top each egg with a little mozzarella. Recover and allow mozzarella to just melt.
Carefully scoop each egg/veggies out with a spatula, serve with a piece of whole grain toast, or just by itself, and enjoy!