Meatless Monday: Roasted Spaghetti Squash & Veggie Bolognese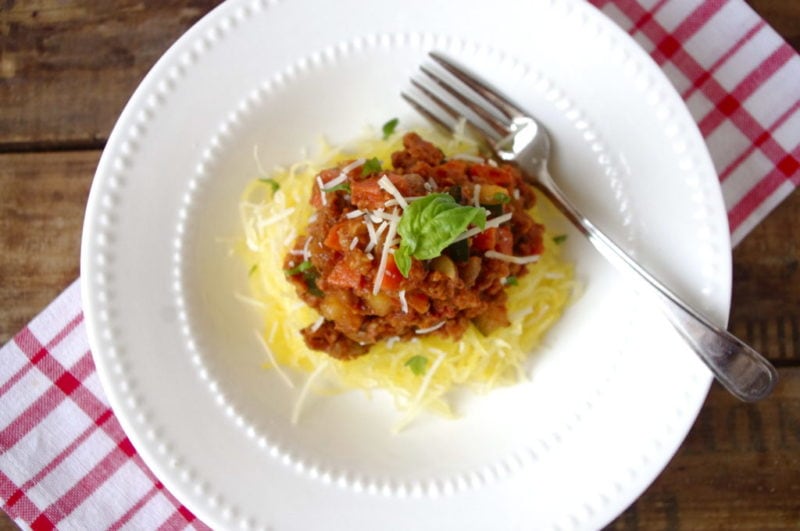 1 large spaghetti squash, halved
185g Gardein Meatless Ground (you can use another brand if preferred)
½ jar your favorite spaghetti sauce (preferably organic)
2 tsp olive oil
½ white onion, chopped
1 clove garlic, minced
1 cup fresh mushrooms, chopped
1 large zucchini, chopped
1 medium carrot, chopped
Salt
Pepper
½ cup parmesan cheese, grated (optional, garnish)
Fresh basil (optional, garnish)
Preheat oven to 350 degrees.
Cut squash in half lengthwise, remove seeds and inner fibers. Drizzle both halves with 1 tsp olive oil, and season with salt and pepper, and rub minced garlic over both halves.
Place on a baking tray cut side up. Cook in oven for about 1 hour, or until flesh is soft.
After the squash has been cooking for about 40 minutes, begin to make your sauce.
Heat 1 tsp oil in a pan at med-high heat. Add in onions and garlic and cook until softened.
Add carrots, zucchini, and mushroom and continue to cook until all vegetables are softened - about 7 minutes.
Add in Meatless Ground, and cook through until well heated.
Pour in ½ jar tomato sauce and stir until sauce is slightly bubbling and heated through. Turn heat to low.
Remove squash from oven, use a fork to scrape out the inner flesh and divide into 4 bowls.
Top each portion of spaghetti squash with ½ cup veggie bolognese.
Garnish with 1-2 tbsp grated parmesan cheese and fresh basil.
Recipe by
Nutrition in the Kitch
at https://nutritioninthekitch.com/meatless-monday-roasted-spaghetti-squash-veggie-bolognese/