Chocolate Coated Gingerbread Bliss Balls (Vegan & GF!)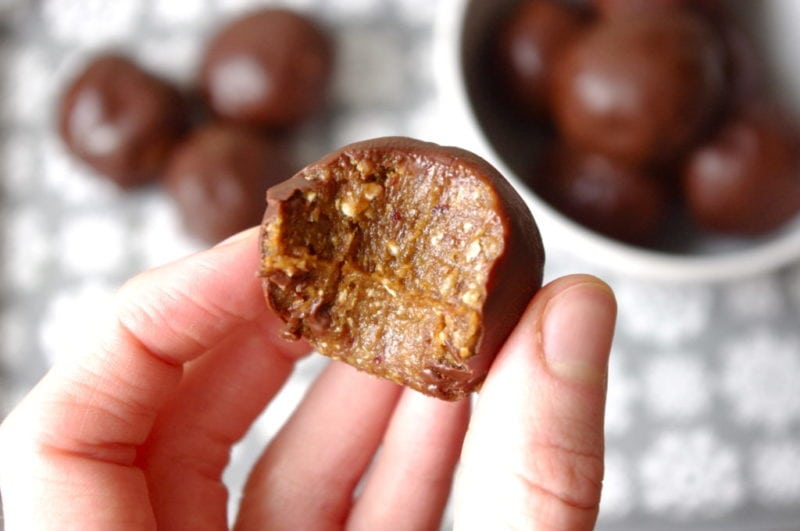 Soak the dates in warm water for 30 minutes, drain.
Place the oats, walnuts, cinnamon, ginger, and nutmeg together in a food processor and blend until finely ground.
Add the soaked dates and raisins and blend again about one minute more, until the mixture is well incorporated.
Add the molasses and maple syrup and blend again for another minute or so.
The mixture should be nice and sticky and hold together, if it is too dry add a few drops of water and mix again.
With clean, wet hands, roll the mixture into 1½-inch balls. (having your hands slightly wet stops the mixture from sticking to your hands!)
Place balls on a baking sheet and put in the freezer for 30 minutes to set.
After balls have set, heat coconut oil and chocolate chips at very low heat in a saucepan until it becomes a chocolate sauce.
Roll each ball in the chocolate sauce to cover and place back on the baking sheet. (just a warning this can be a tad messy, expect to have very chocolaty fingers!)
Once all balls are coated, place back in the freezer for 30 minutes to set.
Enjoy!!
Store balls in the fridge or freezer and enjoy as you wish!
Recipe by
Nutrition in the Kitch
at https://nutritioninthekitch.com/chocolate-coated-gingerbread-bliss-balls-vegan-gf/