Grilled Shrimp Tacos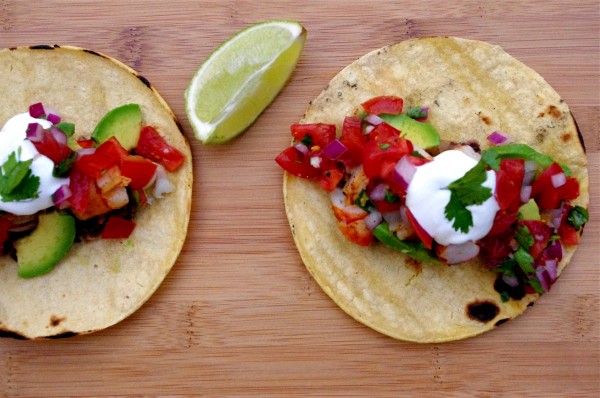 12 tiger shrimp
4 fresh corn tortillas
1 teaspoon ground cumin
1 teaspoon ground cayenne
½ teaspoon chili flakes
½ teaspoon salt and pepper, each
½ lime
¼ cup Salsa (recipe)
¼ cup Black Bean Spread (recipe)
½ avocado, sliced (garnish)
4 tablespoons plain 0% fat Greek yogurt (garnish)
Combine spices, salt and pepper, and lime juice in a bowl. Toss in raw shrimp to coat, let marinate in the fridge for 15-30 minutes.
Prepare Black Bean Spread.
Prepare Fresh Salsa.
Grill shrimp on BBQ for 4-5 minutes or until pink and cooked through. Set aside.
Grill tortillas on BBQ for 1-2 minutes, or until slightly browned on edges.
Chop shrimp into small bite size pieces. Assemble tacos - place bean spread, shrimp, and salsa on tacos.
Garnish with a dollop of plain Greek yogurt (or sour cream), a squeeze of lime, and a sprinkle of cilantro.
Dig in!