Healthier Dark Chocolate "Turtles" & The NITK Wellness Program LAUNCH DATE!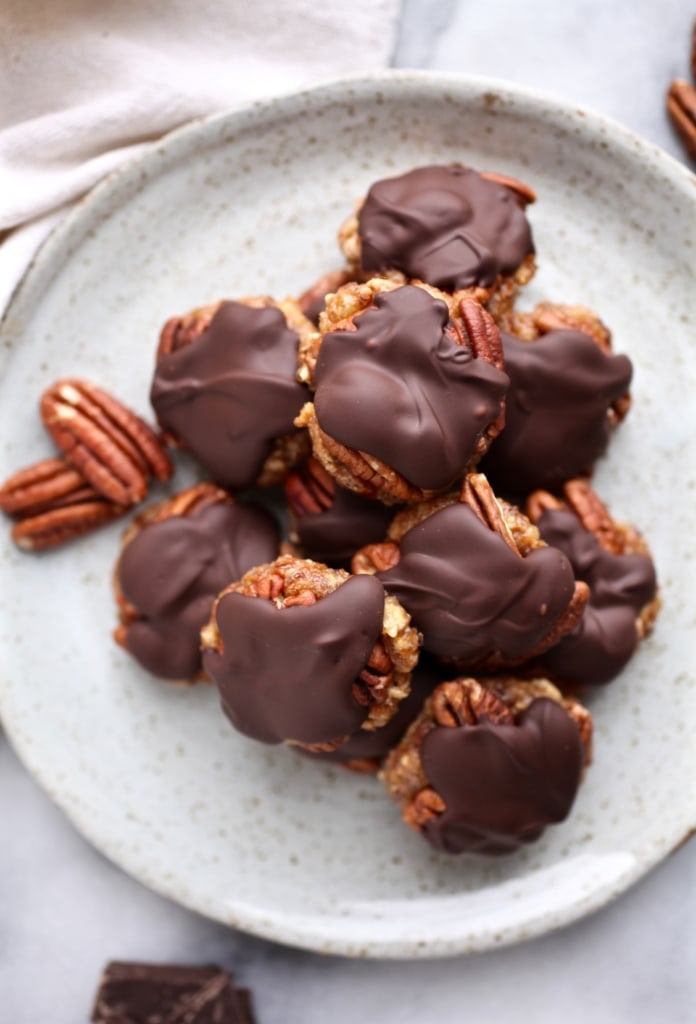 3½ oz dark chocolate (at least 70% cocoa, made with unrefined sweetener)
1 heaping cup pitted dates (if the dates are hard, soak them in hot water for 10 minutes, then drain before processing)
2 oz pecan halves (about 40-45 small halves)
Process dates in a until they become a sticky and very thick jam-like consistency.
Roll the processed dates into 15 marble-sized balls using the palms of your hands (if your hands are slightly wet from washing the dates will not stick to your hands when rolling), place the balls on a lightly greased cookie sheet.
Press 2-3 pecan halves into the date balls and then place in the freezer for 10 minutes to set.
Heat a small saucepan over very low heat and add in the dark chocolate, stir continuously until melted into a smooth sauce. Remove from the heat.
Using a spoon, pour a small amount of chocolate sauce over each date/pecan mound. Repeat until each one is covered with the chocolate. The chocolate sauce will harden quickly becoming a shell over the date/pecan mounds.
Place in turtles in the freezer to set for at least 10 more minutes.
Keep turtles cold (in the fridge is fine) until ready to serve.
Enjoy!
Recipe by
Nutrition in the Kitch
at https://nutritioninthekitch.com/clean-eating-dark-chocolate-turtles-vegan-gluten-free-delights/