Soft & Chewy Coconut Flour Chocolate Chip Cookies (gluten free!)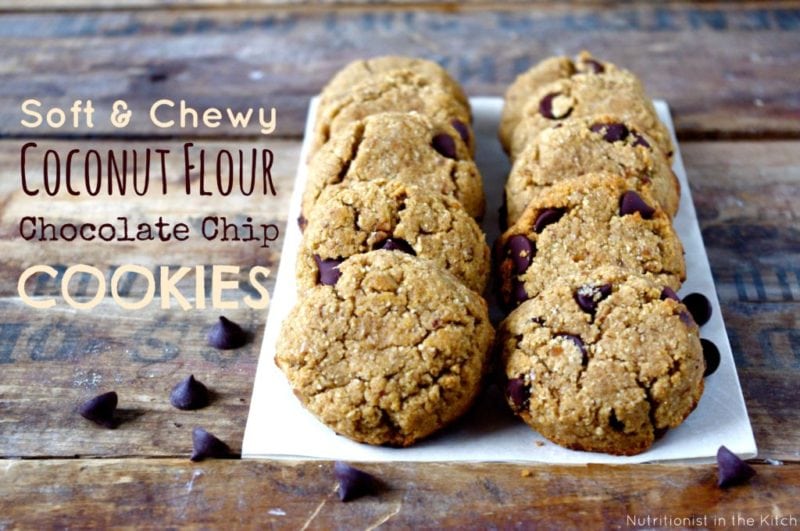 ⅔ cup coconut flour
⅓ cup tapioca flour
½ tsp baking powder
¼ tsp baking soda
⅓ cup date paste (make by soaking dates in hot water then blend into paste)
1 tsp vanilla extract
⅓ cup melted coconut oil
2 eggs at room temperature (vegan option, 2 flax eggs)
Preheat oven to 350 degrees.
Prepare the date paste ahead of time (For the date paste, place dates in a bowl with boiling water, allow to sit for 2-24 hours, drain, and reserve 1 tablespoon of the water, place in a blender or food processor and blend until a paste is achieved)
In a large bowl combine the coconut flour, tapioca, baking powder, and baking soda.
Mix in the chocolate chips.
In another bowl combine wet ingredients, and stir until well incorporated.
Pour the wet mixture into the dry mixture and stir until all ingredients are combined.
Using a small scoop (I used a tablespoon) scoop the batter and place on a cookie sheet lined with parchment.
Press each cookie batter mound firmly, and press together any large cracks.
Bake for 12-14 minutes.
Cool completely before removing from pan.
Enjoy!
Makes 14 cookies.
Recipe adapted from Purely Twins (http://purelytwins.com/2012/10/22/perfect-soft-thick-coconut-flour-chocolate-chip-cookies/)
Serving size:
1 cookie
Calories:
149 kcal
Fat:
8g
Carbohydrates:
10g
Sugar:
3g
Fiber:
3g
Protein:
2g
Recipe by
Nutrition in the Kitch
at https://nutritioninthekitch.com/soft-chewy-coconut-flour-chocolate-chip-cookies-gluten-free-fave-five-friday-healthy-mothers-day-brunch-eats/