No Bake Apple Almond Butter Energy Bites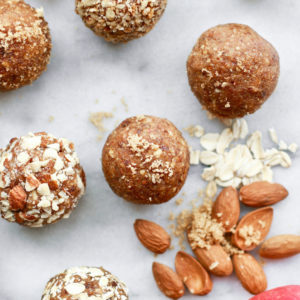 Energy Bites:
1 cup dried unsweetened apple rings
1 cup packed pitted dates
½ cup raw almonds
2 tablespoons raw almond butter
½ tablespoon ground cinnamon
¼ teaspoon ground nutmeg
1 scoop (1/4 cup) vanilla protein powder of choice
1 small gala apple, cored and chopped
pinch of salt
Optional Coatings (choose one or two):
¼ cup gluten free rolled oats
2 tablespoons granola of choice
¼ cup crushed almonds
1 tablespoon coconut palm sugar
Soak dates in hot water for 10-15 minutes to soften, then drain.
Add dates, apple rings, almonds, almond butter, cinnamon, nutmeg, protein powder, and chopped apple to a food processor and process for 1-3 minutes, scraping the sides of the food processor with a spatula as needed.
You should have a sticky but mostly smooth batter.
Scoop the batter out into a bowl and using a tablespoon measure, scoop a slightly smaller than golf ball sized portion and roll into a ball using the palms of your hands. It sometimes helps to have slightly wet hands if the batter is extra sticky.
Once you have made a little ball, roll the ball into the coating of choice (oats, granola, crushed almonds, etc.), and place the ball on a cookie sheet covered in wax/parchment paper.
Do this with the rest of the batter to make around 14 balls.
Enjoy!
Store in the fridge for up to 2 weeks or freezer for up to 3 months.
Recipe by
Nutrition in the Kitch
at https://nutritioninthekitch.com/no-bake-apple-almond-butter-energy-bites/