Easy Slow-Cooker Paella // GF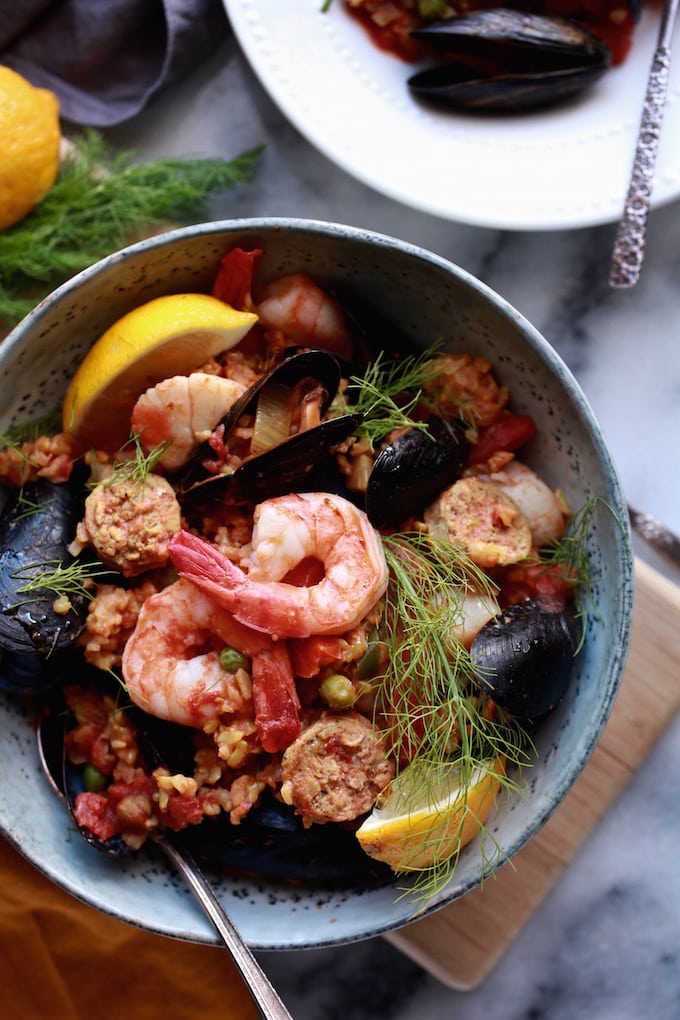 3 links organic chicken or pork sausage
340 g frozen seafood medley (easiest option) OR a mix of prawns, scallops, and mussels (1 cup each)
1½ cups (dry) long grain brown rice
1½ cups organic chicken broth
1 medium onion, chopped
½ cup fennel, chopped
1 medium bell pepper, chopped
2 cups diced canned tomatoes with juice
1 cup frozen green peas
1 teaspoon ground tumeric
½ teaspoon ground paprika
1½ teaspoons garlic salt
lemon wedge and fennel sprigs to garnish
In a pan, brown the sausage links for 5-7 minutes, then cut into slices.
Add the chicken, rice, onion, fennel, bell pepper, tomatoes, broth, salt and spices to the slow-cooker, and mix to combine.
Cook on high for 3½ hours.
After the paella has been cooking for 3½ hours, give it a good stir.
Option 1: Under cold running water, thaw the seafood and peas, then mix the seafood and the peas in with the paella, and cook on high for another 30 minutes.
Option 2: Add the peas to the slow cooker and cook for an additional 30 minutes. 20 minutes later, in a large pan, add the raw prawns, scallops, and mussles with ½ cup of white wine and 1 tablespoon olive oil. Sauté for 5-7 minutes until fully cooked, then add to paella.*
Divide paella into 6-8 servings and garnish with fennel sprigs and a lemon wedge!
Enjoy!
* Adding a bagged frozen seafood mixture is the easiest option but the seafood doesn't "stand out" as much as if you sauté it separately in a pan then add to the paella mixture after. That's what I did for the photos and you can see the seafood is the star of the dish!

Either option will still taste great :)
3.5.3208
Recipe by
Nutrition in the Kitch
at https://nutritioninthekitch.com/easy-slow-cooker-paella-gluten-free/