Gluten Free Apple & Cheddar Loaf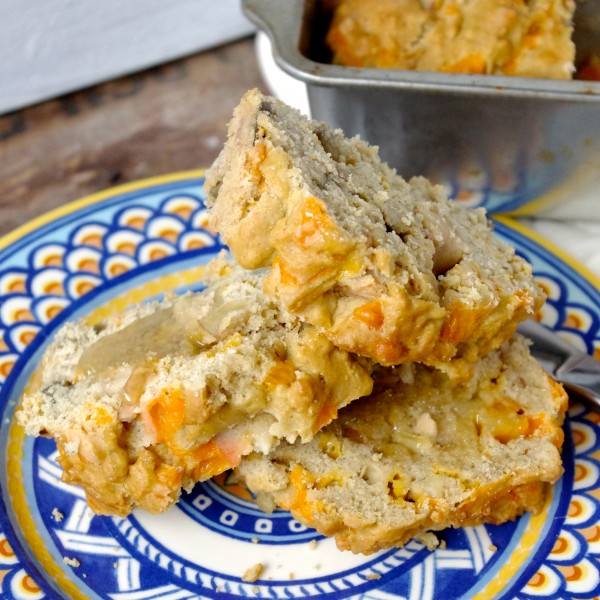 ¾ cups gluten-free all-purpose flour (I used Bob's Red Mill brand)
¼ teaspoon xanthan gum (I used Bob's Red Mill brand)
½ teaspoon baking soda
¼ teaspoon baking powder
¼ teaspoon salt
¼ tablespoon dried sage
1 large egg
2-3 tablespoons milk of choice (I used almond milk)
2 tablespoons olive oil
2 tablespoons raw honey
1 cup unpeeled chopped granny smith apple
1 cup shredded sharp cheddar cheese
Preheat oven to 350 degrees.
Grease an 8x4 inch loaf pan and set aside.
In a large bowl, whisk together flour, xanthan gum, baking soda, baking powder, salt and sage.
In a separate bowl whisk eggs, milk, honey, and olive oil.
Gradually add dry ingredients to wet ingredients, stirring to combine. Add apples and cheese and stir until just combined.
Pour batter into prepared loaf pan and bake 25-30 minutes, or until a toothpick inserted in the center of the loaf comes out clean.
Remove pan from oven and place on a cooling rack 10 minutes before removing from pan.
Cool completely before slicing.
Spread with raw honey, and enjoy!
Serving size:
1/7 loaf
Calories:
128kcal
Fat:
7g
Carbohydrates:
14g
Sugar:
3g
Fiber:
2g
Protein:
4g
Recipe by
Nutrition in the Kitch
at https://nutritioninthekitch.com/gluten-free-apple-cheddar-loaf/