Easy Blender Thai Pumpkin Soup // Gluten & Dairy Free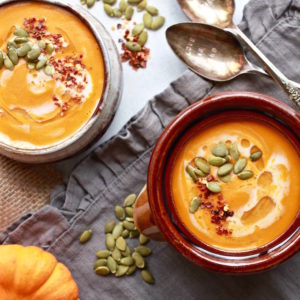 ½ large onion, peeled, chopped
1 tablespoon olive oil
1 tablespoon tomato paste
1 tablespoon Red Thai Curry Paste
1 15oz can pumpkin pureé
1 tablespoon minced ginger root
1 garlic clove, peeled, chopped
1 cup vegetable broth
1½ cups coconut milk
2 slices of your favourite plain or whole-grain gluten-free bread, diced into chunks*
½ teaspoon salt
½ teaspoon pepper
1 tablespoon lemon juice
Optional Garnishes:
drizzle of coconut cream
drizzle of sesame oil
sprinkle of chili flakes
sprinkle of pumpkin seeds
Heat a pan over medium-high heat.
Add in olive oil.
Sauté onion in olive oil until soft.
Add tomato paste, red curry paste, pumpkin puree, ginger, garlic, vegetable broth, and coconut milk to the pan and stir until thoroughly heated through.
Transfer soup mixture to a blender and add in lemon juice, salt, pepper, and the bread chunks.
Blend on low and slowly increase to the highest setting and blend for 30 seconds to 1 minute on high or until completely smooth.
Divide between 3-4 bowls and garnish each bowl with the optional garnishes.
Enjoy!
*Adding the bread to the soup is optional but it creates a thick and velvety texture that's absolutely delicious! Without the bread the soup is still great but will be a thinner consistency.
Recipe by
Nutrition in the Kitch
at https://nutritioninthekitch.com/blender-thai-pumpkin-soup-vegan-gluten-free-a-vitamix-more-giveaway-from-organic-eats-magazine/