Slow Cooker Chicken & Chickpea Tagine (GF and a Vegan Option!)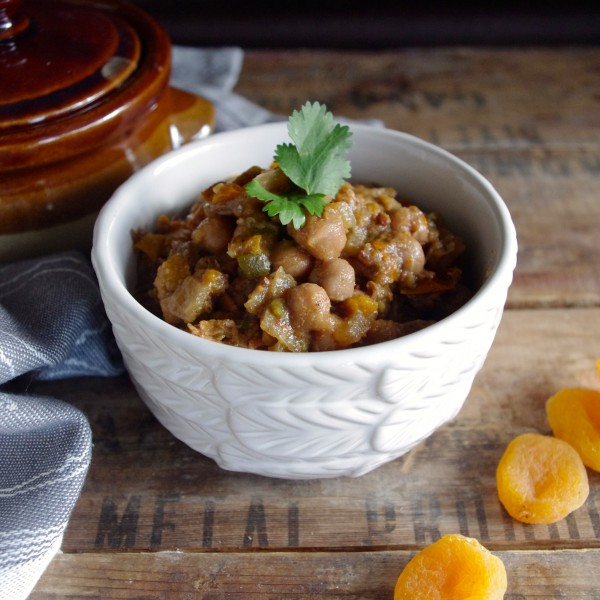 6-8 chicken thighs (boneless, skinless) or omit for vegan option
1 medium onion, diced
2 bell peppers, diced
1 zucchini, diced
2 cloves garlic, minced
1 tablespoon ginger puree, or 1" piece ginger (peeled & minced)
1 teaspoon coriander
1 teaspoon cumin
1 teaspoon cinnamon
1 teaspoon red chilli flakes
2 cups chicken or vegetable broth
½ cup dried apricots, chopped
½ cup dried dates, chopped
1 tablespoon raw honey (omit for strict vegan)
1 15oz can chickpeas (drained and rinsed) (use 2 cans for vegan option to make a larger batch and add extra protein!)
¼ tsp salt
¼ tsp pepper
¼ cup chopped cilantro (optional, for garnish)
Layer the onions, peppers, zucchini, and chickpeas in the slow cooker.
Add in the garlic, spices, honey, and dried fruit.
Pour in the broth, and give a little stir to combine.
Place the raw chicken thighs over the vegetable mixture.
Cover and cook on low for 6-8 hours.
Garnish with cilantro and enjoy!
Recipe by
Nutrition in the Kitch
at https://nutritioninthekitch.com/slow-cooker-chicken-chickpea-tagine-gf-and-a-vegan-option/