Baked Zucchini Dill Fritters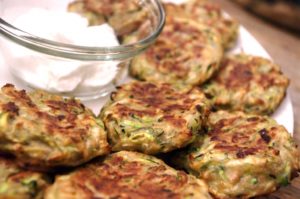 2 large zucchini, grated
½ red onion, grated
½ cup spelt flour
½ teaspoon salt
¼ teaspoon pepper
2 Tbsp fresh dill, chopped
a splash of almond milk (or regular milk)
1 egg
Preheat oven to 425 degrees.
With a grater, grate zucchini and red onion. Place grated vegetables in a kitchen towel and squeeze out the excess liquid (there will be a lot!).
Finely chop the dill. Add to zucchini and red onion in a bowl.
In the same bowl combine spelt flour, salt, pepper, egg, and almond milk, and mix well.
Drop into rounds on a greased baking sheet, and bake for 16-20 minutes.
Flip and bake for another 10 minutes until golden brown on both sides.
Serve with plain fat-free Greek yogurt, or another healthy dip of your choice!
Recipe by
Nutrition in the Kitch
at https://nutritioninthekitch.com/baked-zucchini-dill-fritters/