Peanut, Lime & Prawn Curry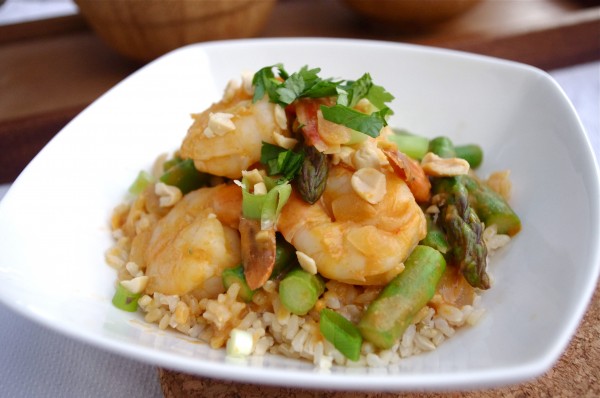 1 pound raw tiger prawns
½ cup diced onion
1½ cup asparagus, cut into 1" pieces
2 cloves garlic, minced
¾ cup light coconut milk
½ cup sugar-free peanut butter
1 tablespoon Thai red curry paste2 tablespoons fresh lime juice
1 tablespoon low sodium soy-sauce
1 tablespoons fish sauce
2 teaspoons melted coconut oil, divided
1 tablespoon pure honey
pinch of pepper, cinnamon, cayenne
cilantro, green onion, crushed peanuts, lime juice to garnish (optional)
In a bowl whisk together coconut milk, peanut butter, curry paste, lime juice, soy sauce, fish sauce, honey, spices, and 1 teaspoon of coconut oil. Set aside.
Heat 1 teaspoon of coconut oil in a non-stick pan at medium to high heat.
Add onion and garlic and cook until softened. Add prawns and cook for 2 minutes until turning pink.
Add sauce and simmer for 2-3 minutes. Add asparagus and cook for another 3 minutes until asparagus is slightly softened and prawns are cooked through.
Serve on top of brown rice, and garnish with cilantro, crushed peanuts, green onion and a squeeze of lime juice.
Enjoy!
Nutritional information for this recipe does not include rice or garnishes! Add ½ cup of brown rice to make a meal for 335 calories! Not bad for a coconut curry!
Recipe by
Nutrition in the Kitch
at https://nutritioninthekitch.com/peanut-lime-prawn-curry/