Nutty Quinoa Porridge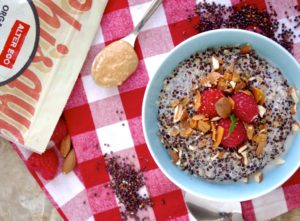 In a small pot over medium, heat the almond milk and almond butter, stir continuously until nut butter melts into the almond milk and becomes smooth. Stir in the sweetener of choice.
Add in the cooked quinoa and stir for 3-4 minutes to incorporate with the almond milk mixture and heat through.
Separate into 4 bowls and top with raspberries, almonds, and coconut.