Raspberry Oatmeal Ice Cream Sandwiches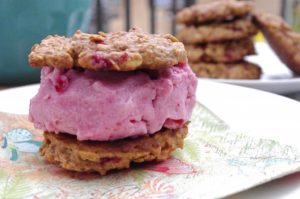 Ice Cream:
Cut banana into coin pieces and place in freezer for 2-3 hours until frozen. Place frozen banana coins in a food processor and mix until the consistency of soft serve is reached.
Add frozen raspberries and coconut milk to mixture and blend until combined.
Take mixture and freeze for another hour until ice cream consistency is reached.
Cookies (makes 12):
Preheat oven to 350 degrees.
Combine applesauce and nut butter together and mash together.
Add all other ingredients and mix until well combined.
Shape into thin cookies and bake on a lightly greased cookie sheet for 15 minutes.
Let cool completely and assemble with ice cream.
Enjoy!
Recipe by
Nutrition in the Kitch
at https://nutritioninthekitch.com/raspberry-oatmeal-ice-cream-sandwiches/