Healthy Homemade Chocolate Banana Bread Donuts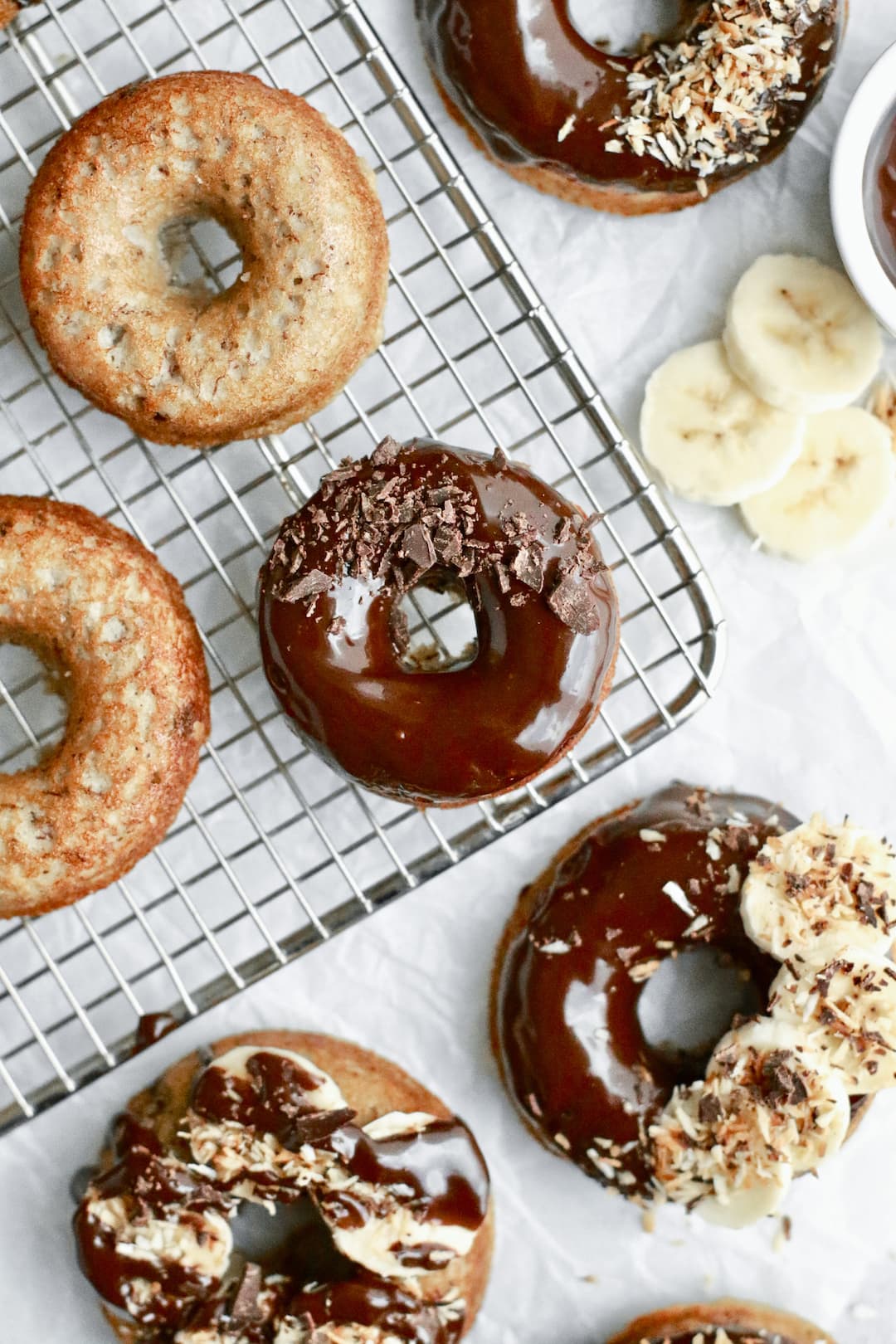 Banana Bread Donuts:
¼ cup + 2 tablespoons almond flour
¼ cup + 2 tablespoons coconut flour
¼ cup unsweetened shredded coconut
4 large eggs
2 tablespoons raw honey
¼ cup high quality dark chocolate, chopped into chunks
¼ cup earth balance soy free vegan butter OR regular organic butter, melted
1 cup mashed banana
¾ teaspoon baking soda
1 teaspoon vanilla extract
¼ tsp salt
Chocolate Glaze:
5 tablespoons cocoa powder
2 heaping tablespoons raw honey
1½ tablespoons coconut oil
1 tablespoon non-dairy milk of choice
Optional Toppings:
¼ cup unsweetened shredded coconut, toast in a warm pan for 2 minutes
1-2 tablespoons finely chopped dark chocolate
1 medium banana, sliced
Preheat the oven to 350 degrees.
To the Cuisinart Stand Mixer bowl (or in a large mixing bowl) combine the flours, shredded coconut, baking soda, salt, mashed banana, eggs, honey, melted vegan butter (or regular butter) and vanilla and whisk on medium speed for 1-2 minutes (or mix with a spoon) until smooth.
Fold in the chocolate chunks.
Generously grease two non-stick donut pans (6 donut cavities each) with coconut oil and pipe or spoon in the batter to fill each mold.
Bake the donuts for 10-12 minutes until just beginning to brown on the top.
Remove donuts from the oven and leave to cool for at least 10 minutes.
Once mostly cooled, remove the donuts from the pans and place on a plate.
Lastly, prepare the chocolate glaze by melting the coconut oil and honey in a small pan over low heat, then transfer to a small bowl and stir in the cocoa powder and non-dairy milk until the sauce is thick and smooth.
Place the chocolate glaze in the fridge for a few minutes to thicken more and toast the shredded coconut, if using.
Dip the top of each donut into the chocolate glaze to coat, then add on any additional toppings.
Enjoy!
Store glazed donuts in the fridge for best keeping.
Recipe by
Nutrition in the Kitch
at https://nutritioninthekitch.com/toasted-coconut-chocolate-chunk-banana-bread-donuts/