Coconut & Lemongrass Raw Vegetable Salad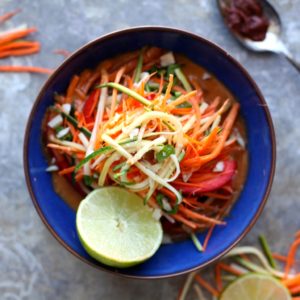 1 small zucchini, spiralized or sliced with a mandolin
1 small sweet potato, peeled and spiralized or sliced with a mandolin
1 small carrot, spiralized or sliced with a mandolin
1 small red bell pepper, julienned
2 tablespoons coconut cream (or full fat coconut milk)
1 tablespoon red Thai curry paste
1 tsp lemongrass paste or minced lemongrass
1 tsp ginger paste or minced ginger
1 tsp sesame oil
1 tablespoon chopped Thai basil or cilantro
½ lime wedge
1 tablespoon crushed peanuts or cashews to garnish
Slice vegetables and set aside.
In a small saucepan heat the curry paste with the sesame oil over medium heat for 1-2 minutes. Add in the lemongrass and ginger.
Add in the coconut cream and stir to combine and bring to a simmer.
Remove from heat and set in the fridge to cool.
Place the sliced vegetables in a bowl, pour the cooled "dressing" over the vegetables, garnish with the Thai basil, nuts, and squeeze generously with lime juice.
Serve with your favourite protein such as grilled chicken thighs, seared tofu, or top with a medium poached egg!
Recipe by
Nutrition in the Kitch
at https://nutritioninthekitch.com/coconut-lemongrass-raw-vegetable-salad/