Healthy Dairy Free S'more Ice Cream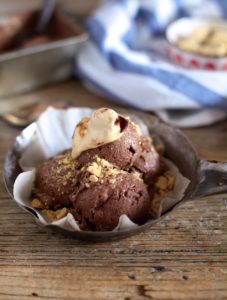 1 can full fat coconut milk
2 tablespoons raw honey
¼ cup raw cocoa powder
2 frozen bananas
6 naturally sweetened marshmallows/vegan marshmallows/or regular marshmallows if you can't find the good stuff!
¼ cup crushed naturally sweetened graham crackers/gluten free graham crackers
In a blender add the cream of the coconut milk (scoop the cream that separates from the coconut water out of the can), honey, bananas, 2 of the marshmallows, and cocoa powder and blend until smooth.
Pour the mixture into a loaf pan and place in the freezer for 1 hour.
After an hour, the mixture should be semi frozen, mash it together a bit to get a firmer consistency and place in the freezer for another 1 hour.
After that time is up repeat by mashing it again until you have a good ice cream consistency.
Toast two marshmallows over a flame of some sort (I used my gas range), add the marshmallows to the ice cream and mash/combine/stir them into the ice cream.
Scoop the ice cream into two to three bowls and top each serving with the crushed graham crackers and then top each serving with another toasted marshmallow to garnish.
DIG IN!
Recipe by
Nutrition in the Kitch
at https://nutritioninthekitch.com/healthy-dairy-free-smore-ice-cream-my-first-vid/