Spice Rubbed BBQ Chicken & Pineapple Salsa Rice Plate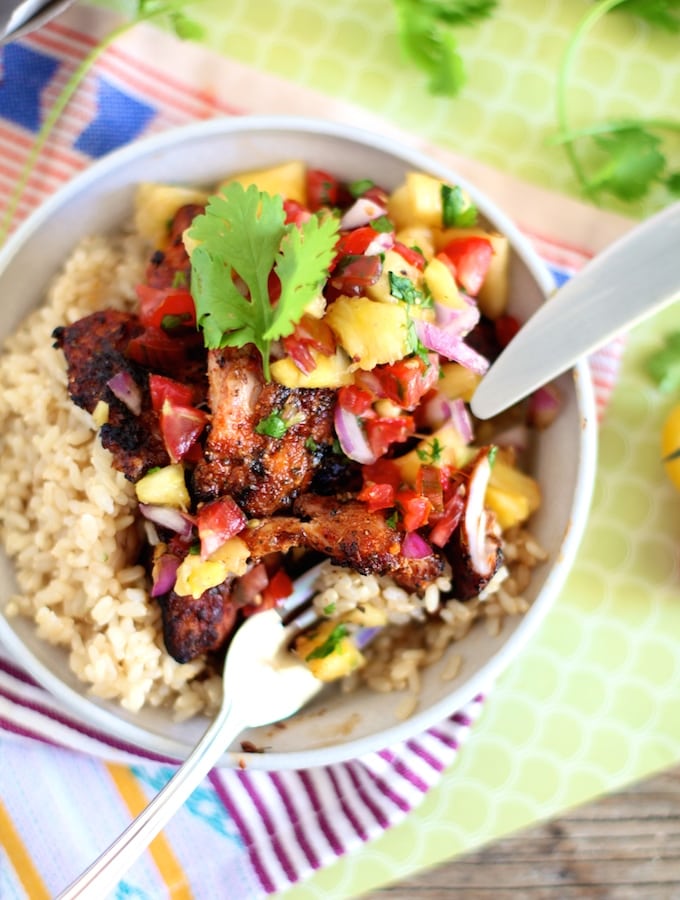 For the chicken:
8 chicken thighs, skinless/boneless (preferably organic)
2 tsp smoked paprika
1 tsp garlic powder
1 tsp onion powder
2 tsp Keg spice (or run of the mill steak spice)
½ tsp mustard powder
½ tsp dried thyme
½ tsp dried parsley
¼ tsp salt
¼ tsp pepper
For the salsa:
1 cup diced pineapple
½ cup diced tomato
¼ cup diced red onion
¼ cup chopped cilantro
juice of 1 whole lime
½ tsp salt
¼ tsp pepper
For the rice:
1 cup brown rice
2 cups organic chicken broth
Prepare the rice in a rice cooker or on the stovetop by combining 1 cup brown rice with 2 cups broth. Once cooked set aside, or while cooking, prepare the rest.
For the salsa, in a bowl combine all of the ingredients and mix well. Taste and add more salt or lime as preferred. Set in the fridge to chill.
For the spiced rubbed chicken. Add all of the spices to a bowl and stir to combine.
Dredge each chicken thigh in the spice mix and rub the spice thoroughly into each chicken thigh.
Grill the spice rubbed thighs on the BBQ until done.
Between 4 plates divide the cooked rice, top with 2 chicken thighs (or more), and a big spoonful of the salsa.
Recipe by
Nutrition in the Kitch
at https://nutritioninthekitch.com/spice-rubbed-bbq-chicken-pineapple-salsa-rice-plate/