Cherry Chocolate Skillet Cobbler from Empowered Vitality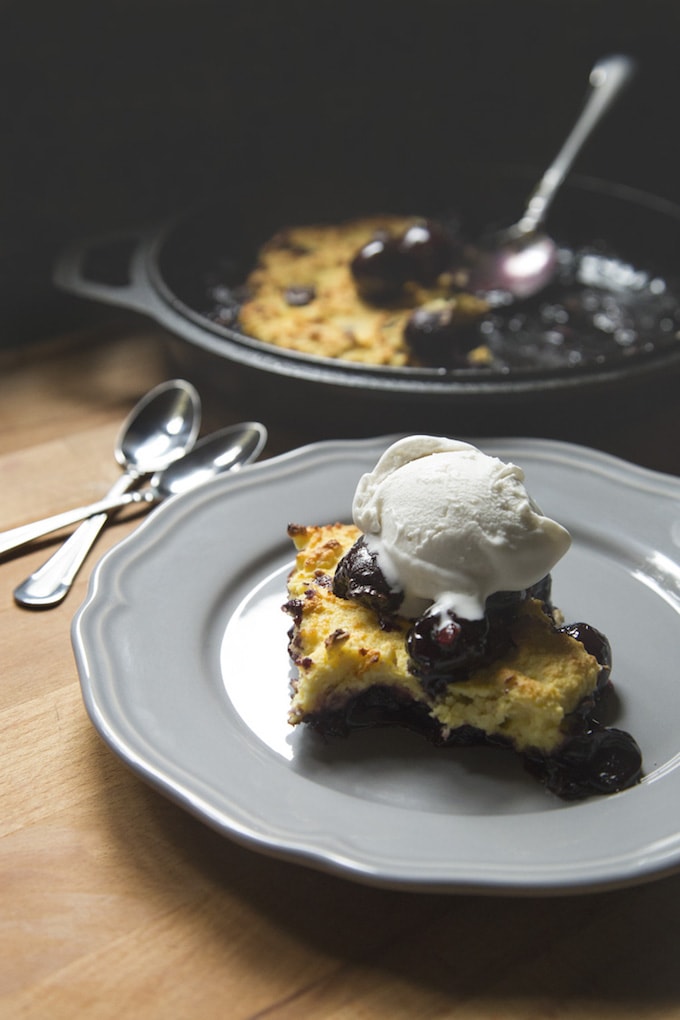 Filling:
6 cups cherries, pitted
2 teaspoonstapioca flour
½ teaspoon vanilla powder
¼ cup dark chocolate chunks (we used Enjoy Life brand as they're gluten and dairy free)
Topping:
2 large eggs
½ cup almond flour
2 tablespoons coconut flour
1 tablespoon water
1 ½ teaspoons raw apple cider vinegar
1 ½ tablespoons butter, ghee or coconut oil
1 teaspoon honey (or maple syrup to make vegan)
Pinch of sea salt
Preheat oven to 375 degrees Fahrenheit.
Add 1 teaspoon of coconut oil to a 10-inch cast iron skillet and melt over medium heat. If you don't have a cast iron skillet just cook the cherries in a frying pan and then place in an 8x8 pan to bake in the oven.
Add the cherries to the skillet and cook 15 minutes until softened and some of the liquid has cooked off.
While the cherries cook make the cobbler topping by beating two eggs in a medium sized bowl.
Add the remaining topping ingredients and stir until combined well. Set aside.
Once the cherries have cooked 15 minutes add the tapioca flour and vanilla flour. Cook another minute so juices thicken.
Add the chocolate chunks to the skillet, spreading them out evenly over the cherries.
Spoon the cobbler topping onto the cherries, leaving the edges exposed.
Place the skillet in the oven and cook 25-30 minutes until cobbler has browned and chocolate is melted. Remove from oven and let cool.
Eat warm or cold with coconut milk ice cream.
Recipe by
Nutrition in the Kitch
at https://nutritioninthekitch.com/cherry-chocolate-skillet-cobbler-from-empowered-vitality/