The Ultimate Fall Salad with Maple Pumpkin Chia Dressing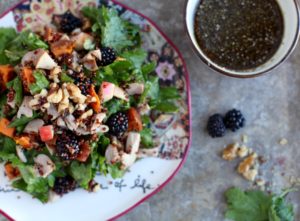 1 cup cooked chicken thighs or breasts, shredded (prepared ahead of time)
¾ cup cooked quinoa (prepared ahead of time)
½ cup roasted sweet potatoes (prepared ahead of time, my Honey Caramelized Sweet Potatoes would be great on this salad)
3 cups baby kale, chopped
½ cup thinly sliced apple
½ cup fresh blackberries
¼ cup pumpkin seeds
Dressing:
1 tablespoon chia seeds
2 tablespoons pure maple syrup
2 tablespoons pumpkin seed oil, avocado oil, or olive oil
2 tablespoons apple cider vinegar
¼ tsp minced garlic
pinch of salt and pepper
Whisk together the dressing ingredients and set aside to thicken.
In a large bowl add all of the salad ingredients and toss to combine.
Whisk the dressing once more and pour over the salad.
Toss again to coat ingredients with dressing and divide between two plates.
Enjoy!
For a faster salad assembly I recommend preparing a batch of grilled chicken and roasted sweet potatoes for another meal, then use the leftovers for this salad!
Recipe by
Nutrition in the Kitch
at https://nutritioninthekitch.com/the-ultimate-fall-salad-with-maple-pumpkin-chia-dressing-gluten-dairy-free/