Cajun Shrimp Tacos with Grapefruit Pineapple Salsa & Avocado Crema (GF & DF)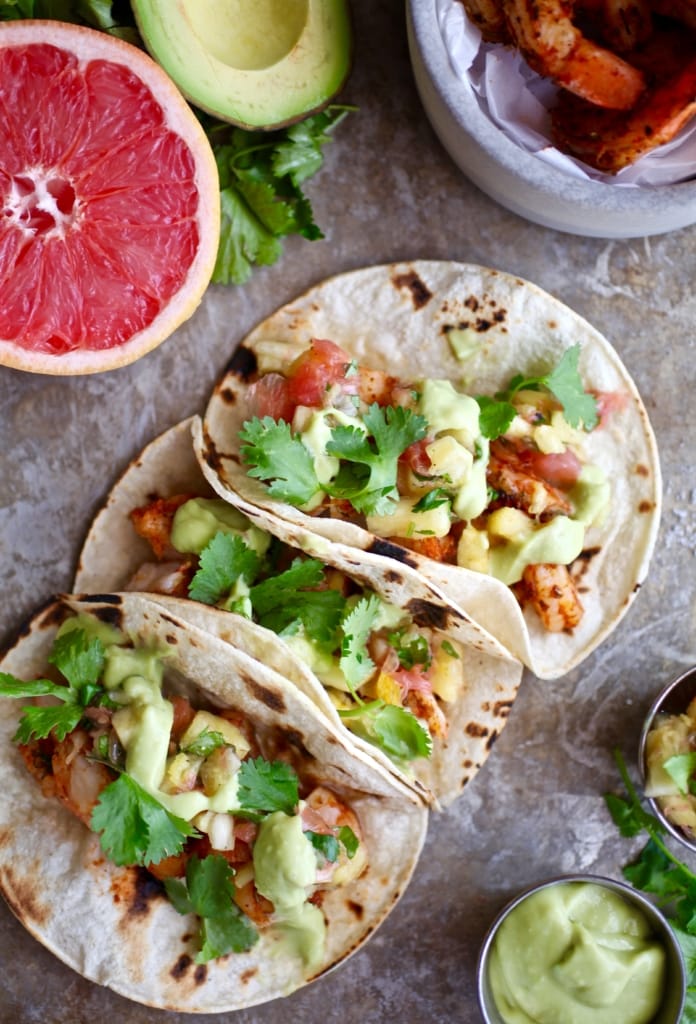 Cajun Shrimp:
12 large raw prawns, peeled and deveined
1 teaspoon olive oil
½ teaspoon salt
½ teaspoon garlic powder
½ teaspoons paprika
¼ teaspoon ground black pepper
¼ teaspoon onion powder
¼ teaspoon cayenne pepper
¼ teaspoon dried oregano
¼ teaspoon dried thyme
⅛ teaspoon red pepper flakes
Grapefruit Pineapple Salsa:
½ grapefruit, peeled, segmented, and diced
¼ cup finely diced pineapple
juice of 1 lime
½ tablespoon coconut palm sugar or honey
1 clove crushed garlic
¼ cup chopped cilantro
¼ teaspoon salt
¼ teaspoon pepper
Avocado Crema:
½ avocado, peeled and pitted
juice from ½ lime
¼ teaspoon salt
¼ teaspoon pepper
2 tablespoons unsweetened almond milk
2 tablespoons water
Tacos & Toppings:
4 Soft Corn Tortillas
¼ cup chopped fresh cilantro
fresh lime
In a small bowl combine all the spices for the cajun shrimp and mix together.
In a larger bowl add the raw shrimp, olive oil, and top with the spices. Toss together with a spoon until the shrimp is well coated with the spices. Set aside.
Create the salsa by combining all of the salsa ingredients in a bowl and mix well. Place in the fridge.
Create the avocado crema by adding the avocado, lime juice, salt, pepper, almond milk, and water to a small food processor and blend until smooth. Place in the fridge.
Fire up the BBQ and grill the shrimp for 5-7 minutes until done then chop into smaller pieces.
Grill the tortilla shells to slightly to warm.
Divide the chopped shrimp between 4 tacos, top each with 2-3 tablespoons of the salsa and drizzle with 1 tablespoon of the avocado crema.
Garnish each taco with chopped cilantro and a squeeze of fresh lime.
Enjoy!
Recipe by
Nutrition in the Kitch
at https://nutritioninthekitch.com/cajun-shrimp-tacos-with-grapefruit-pineapple-salsa-avocado-crema-gf-df/