Easy Grain-Free "Churro" Mini-Muffins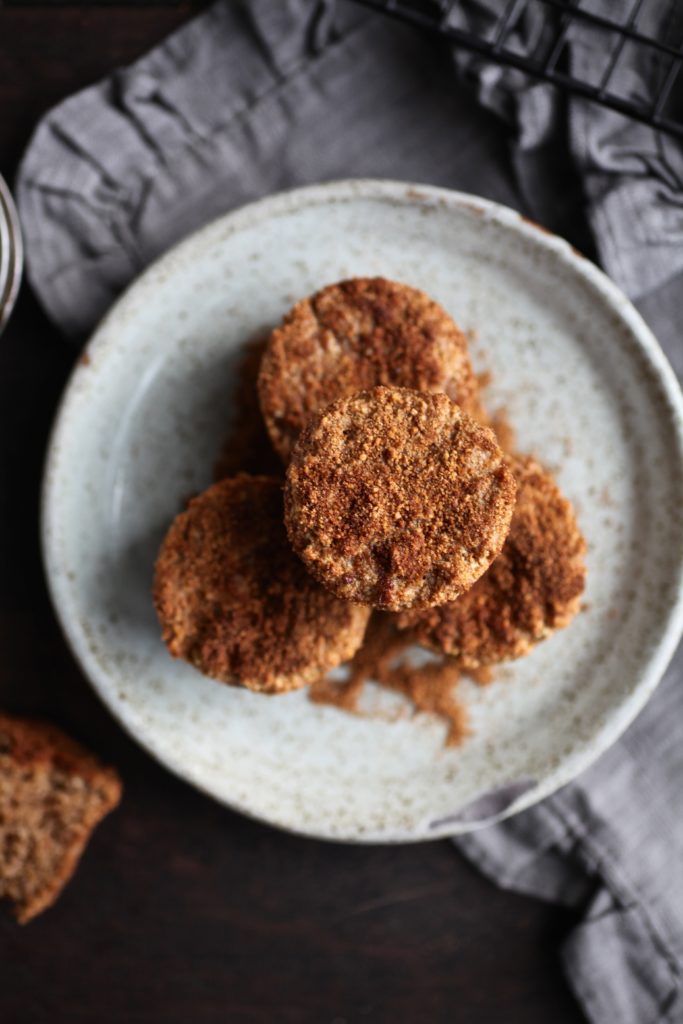 Muffins
1¼ cups almond flour
½ teaspoon baking soda
¼ teaspoon salt
1 teaspoon ground cinnamon
3 tablespoons coconut palm sugar
¼ cup mashed ripe banana or applesauce (unsweetened)
1 egg
1 tablespoon coconut oil, melted + 1 teaspoon coconut oil for muffin tin
½ teaspoon pure vanilla extract
Cinnamon-Sugar Coating
1 tablespoon coconut palm sugar
1 teaspoon ground cinnamon
1 teaspoon melted coconut oil
Preheat oven to 325 degrees.
Grease a mini muffin tin using coconut oil (should have 8 muffin cups).
In a bowl, combine the almond flour, baking soda, salt, coconut palm sugar and cinnamon.
Stir until thoroughly combined.
In a separate bowl, whisk the egg, mashed banana (or applesauce), melted coconut oil and vanilla extract until smooth.
Combine the wet mixture with the almond flour mixture until well incorporated.
The batter will be quite thick.
Fill each muffin cup full with the batter to fill all 8 cups.
Bake for 15-18 minutes.
Once a toothpick pulls clean allow the muffins to cool completely before removing from the muffin tin.
In a small bowl combine the 1 tablespoon coconut palm sugar with 1 teaspoon cinnamon then spread over a plate.
Brush each muffin lightly with a small amount of melted coconut oil using a pastry brush then roll in the cinnamon 'sugar' mix to lightly coat.
Set each muffin on a plate and repeat with all the muffins.
Store muffins in an airtight container in the fridge.
Recipe by
Nutrition in the Kitch
at https://nutritioninthekitch.com/churro-mini-muffins/