Baked Chicken Strips with Spicy Ketchup & Chive and Onion Dip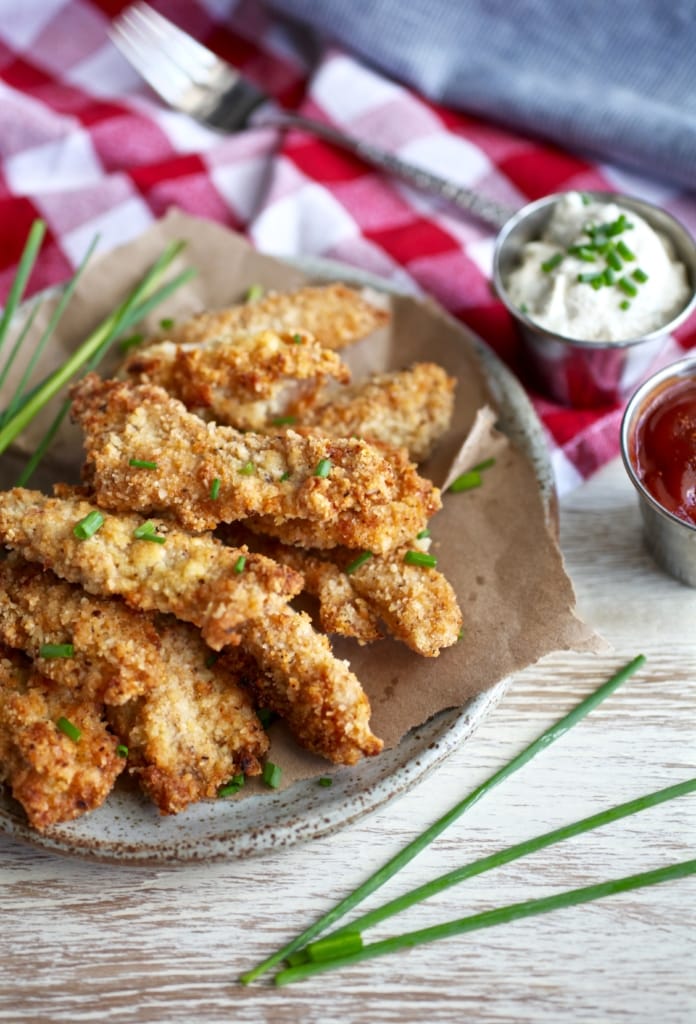 Chicken Strips:
2 large chicken breasts
1 egg, whisked
½ cup almond flour
¼ tsp onion powder
¼ tsp garlic powder
⅛ tsp chili powder
⅛ tsp smoked paprika
¼ tsp sea salt
¼ tsp pepper
Chive & Onion Dip:
⅓ cup soaked cashews
2 tablespoons unsweetened almond milk
½ tablespoon real mayonnaise
1 tablespoon lemon juice
½ tsp onion powder
¼ tsp sea salt
1 tablespoon chopped chives
Spicy Ketchup:
¼ cup natural ketchup
¼ tsp cayenne powder
Chicken Strips:
Preheat the oven to 400 degrees.
Cover a baking pan with parchment paper.
Slice the chicken and set aside.
In a small bowl, whisk the egg, set aside.
In a larger bowl add the almond flour, spices, salt, and pepper and mix to combine.
In an assembly line have the sliced chicken, the egg mixture, and the almond flour mixture and start by taking 1 chicken strip, dipping it in the egg mixture, then tossing it in the almond flour mixture to lightly coat, then setting it on the baking sheet.
Repeat the process for all the chicken strips.
Bake the chicken strips for 15-20 minutes until golden brown and slightly crispy on the edges. (baking time will vary depending on the thickness of your chicken strips so keep a close eye on them).
While the chicken is baking, make the dips.
Chive & Onion Dip:
Remove the soaked cashews from the fridge and drain any excess water.
Add the cashews to a small food processor along with the rest of the dip ingredients and process until smooth.
Place in a bowl in the fridge.
Spicy Ketchup:
Add the ketchup to a small bowl and stir in the cayenne until well combined, place back in the fridge.
When the chicken strips are done, add to a plate and sprinkle with chopped chives to garnish, serve with both dips, and enjoy!
Recipe by
Nutrition in the Kitch
at https://nutritioninthekitch.com/baked-chicken-strips-with-spicy-ketchup-chive-and-onion-dip/