Veggie-Loaded Summer Potato Salad Jars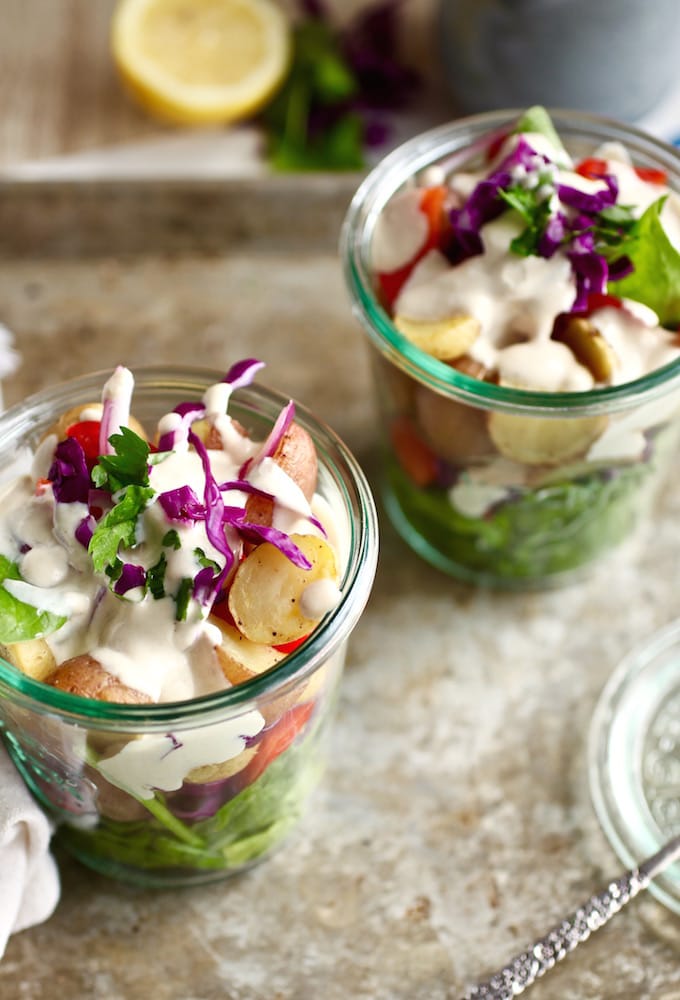 Potato Salad:
2 cups yellow or red Creamer potatoes (I used Little Potato Company Baby Boomers 1.5 lb bag)
1 cup sliced or shredded red cabbage
2 cups spinach
½ cup red onion, thinly sliced
1 red bell pepper, diced
2 tablespoons chopped fresh parsley
Tahini Dressing:
3 tablespoons tahini
juice of 1 lemon
1½ tablespoons pure maple syrup
1 clove garlic, crushed
¼ teaspoon salt
pinch of black pepper
2-3 tablespoons water
Preheat the oven to 350 degrees.
Cut the potatoes in halves or quarters and spread over a baking pan covered in parchment paper.
Roast the potatoes for 15 minutes, flip, then roast for 15 more minutes.
Once cooked, remove from the pan, place in a large bowl, and put in the fridge to cool.
Prepare the dressing by adding all of the dressing ingredients to a small food processor, small blender, or a bowl.
Blend until smooth, or whisk together until smooth*
Set the dressing aside.
Using two mason jars (about 3 cups in volume each), layer the spinach, parsley, cabbage, onion, bell pepper, and cooled roasted potatoes as preferred.
Divide the dressing into two portions, and when you are ready to eat, simply drizzle the dressing into the jars and mix, or transfer to a bowl and enjoy!
*A blender/processor will work best for the dressing as it will emulsify this way, but in a pinch, whisking will work too!
Serving size:
½ of recipe
Calories:
330 kcal
Fat:
12g
Carbohydrates:
48g
Fiber:
9g
Protein:
8g
Recipe by
Nutrition in the Kitch
at https://nutritioninthekitch.com/summer-potato-salad-jars/