Matcha White Chocolate Pistachio Creamsicles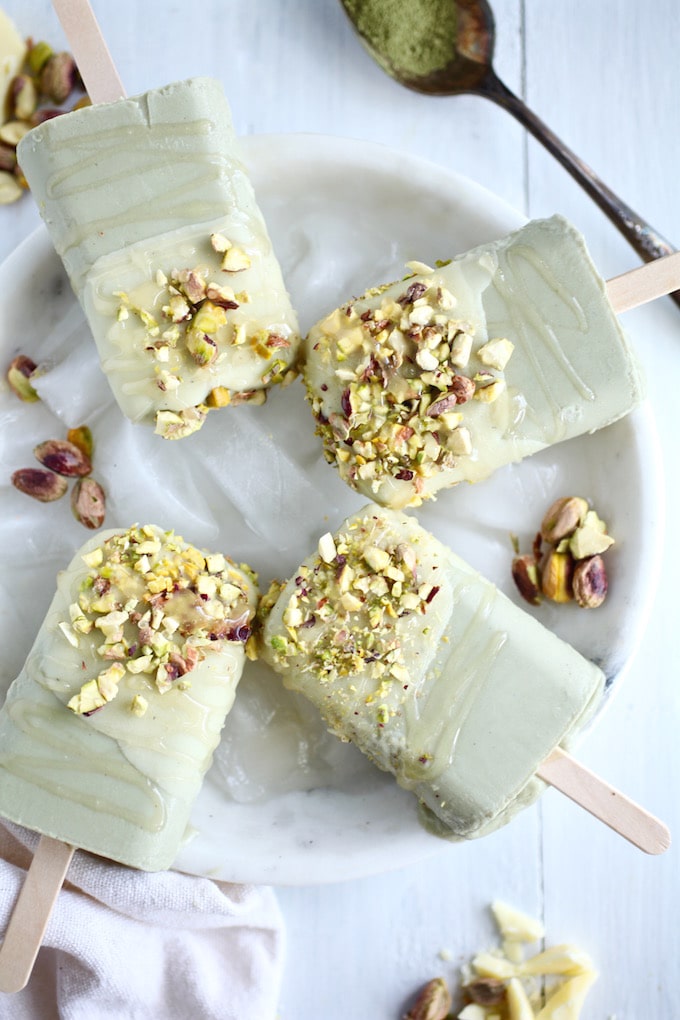 Creamsicle Base:
1 cup canned coconut cream (cream only, no water)
½ cup plain coconut yogurt
2 teaspoons matcha green tea powder
2 tablespoons raw honey
½ tsp pure vanilla
White Chocolate Coating:
2 tablespoons chopped cocoa butter
1 tablespoon coconut butter
2 teaspoons raw honey
Additional Toppings:
¼ cup chopped pistachios
2 teaspoons raw honey
Begin by blending the creamsicle base ingredients in a blender until smooth.
Transfer the matcha mixture to a 4 slot popsicle mould and fill 4 slots.
Place popsicle sticks into the centre of each filled slot in the mould.
Freeze for at least 8 hours.
Once completely frozen, remove the mould from the freezer and set on the counter to thaw slightly.
While the creamsicles are thawing prepare the white chocolate coating.
Melt the cocoa butter in a small pan over low heat, transfer to a small bowl and stir in the coconut butter and honey until smooth, set aside.
Chop the pistachios and spread over a cutting board.
(You will need to work quickly now so the creamsicles do not melt in the process)
Remove one creamsicle from the mould (at a time) and dip it in the white chocolate mixture so the top ½ is coated fully.
The white chocolate coating will harden very quickly so before it has hardened fully, press both sides of the coated creamsicle into the chopped pistachios then place on a plate.
Repeat the process with all 4 creamsicles then place the plate in the freezer for 30 minutes for the white chocolate shell to set.
After 30 minutes, remove the creamiscles and drizzle the pistachio and white chocolate coating with the remaining honey.
Enjoy immediately!
Recipe by
Nutrition in the Kitch
at https://nutritioninthekitch.com/matcha-white-chocolate-pistachio-creamsicles-dairy-gluten-free/